Do you know that your health and wellness has an impact on your personal and business productivity?
Do you know you have an enemy who wants to steal, kill, and destroy you through sickness and disease?
According to the Partnership to Fight Chronic Disease, 133 million Americans – 45% of the population – have at least one chronic disease. Chronic diseases are responsible for 7 out of every 10 deaths in the U.S., killing more than 1.7 million Americans every year. U.S. employers and employees are paying the high costs of chronic disease through the increase in health costs and lower productivity. The truth is, one of the biggest enemies of our productivity as Biblical Entrepreneurs is sickness and disease.
Whether it is affecting employee performance and productivity, increasing the cost of business, or negatively impacting the entrepreneur's drive and ability to focus, our ability to be healthy and to keep our employees healthy has a significant impact on our bottom line. The Bible teaches us that the thief comes to steal, kill, and destroy. One of the areas he is after is our health.
How do we defeat this enemy? How do we take control of our health? How do we tap into God's original plan for us in the area of health and wellness? Dr Gail Davis will take us back to the Garden where it all began and give us insight into what was lost due to sin. She will share her personal journey in going from losing the war on her health to defeating this enemy and living a healthier and more productive life. You will learn how you too can take control of your own health and wellness and increase your personal and business productivity.
Join the next E-Learning Forum to learn how to optimize health and wellness for greater personal and business productivity.
Date: Tuesday June 13, 2017
Time: 6:00 AM to 7:00 AM Pacific time
Speaker: Dr. Gail Davis
Topic: War on Health
Dr. Gail Davis is a health and wellness expert, an entrepreneur, author, founder, and president of Healthy Life Begins—a non-profit health and nutrition education organization. Healthy Life Begins empowers individuals and families to develop and maintain total wellness through proper nutrition, exercise, healthy relationships, the right career choices, and spiritual well-being.
The forum is free to Diamond and Gold members of the E-Community, is discounted for Silver members, and is at the regular price for non-members. The event will also be recorded and available in the Resource Center for Diamond and Gold members.
COST
Diamond and Gold members: Free
Sliver members: $10
Non-members: $25
Click HERE to register for the upcoming E-Learning Forum.
Click HERE to become an E-Community member.
Nehemiah Weekend DMV 2017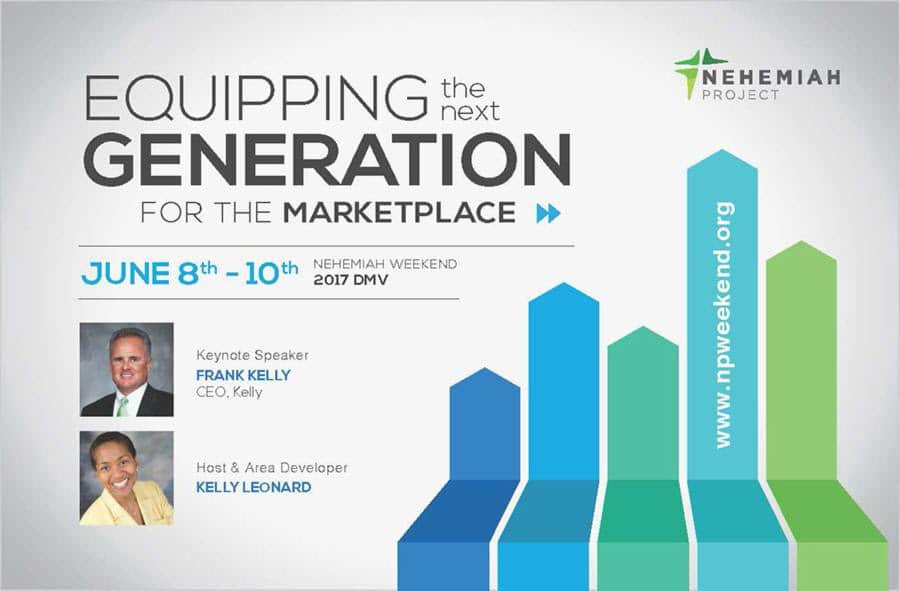 Are you concerned about the future of your nation and your community? Who are the Daniels, Esthers and Josephs of our generation? Where are the next Steve Jobs and Bill Gates?
Each year we host Nehemiah Week and Nehemiah Weekend events around the world to mobilize, inspire and equip BE alumni and entrepreneurs on best practices to integrate their faith in their work and strategies to help them grow their kingdom businesses.
This year in our nation's capital, Area Developers Jerome and Kelly Leonard are hosting the 3rd annual Nehemiah Weekend focusing on the next generation. We will kick off with a CEO Roundtable where we will discuss ways to engage millennials in the workplace and in entrepreneurship. We will then host a Networking and Benefit Breakfast with keynote speaker Frank X Kelly III, CEO of Kelly & Associates Insurance Group. Frank led his family business to become the nation's largest and fastest growing provider of benefits administration and technology, you will not want to miss his keynote address. We conclude with the Young Biblical Entrepreneur (YBE) One Day Experience; a day-long intensive entrepreneurship and leadership program that exposes students ages 11-18 to Biblical Entrepreneurship and the opportunity to work as a team to conceive, develop and defend a kingdom business plan.
Our keynote speaker for the YBE One Day Experience is 17 year-old entrepreneur, author and speaker, Gabrielle Jordan. Gabrielle started her own jewelry business at age 9 and experienced such success that she started her own non-profit mentoring program, helping other young people. She has been featured in several media outlets including Ted Talk.
Join us this June 8 – 10 as we equip and inspire the next generation for kingdom impact.
Click here for more information or to join us for any of these events. You can also join our Entrepreneur Gift Challenge by contributing $100 or more to sponsor a Young Biblical Entrepreneur. To make your gift today click here.