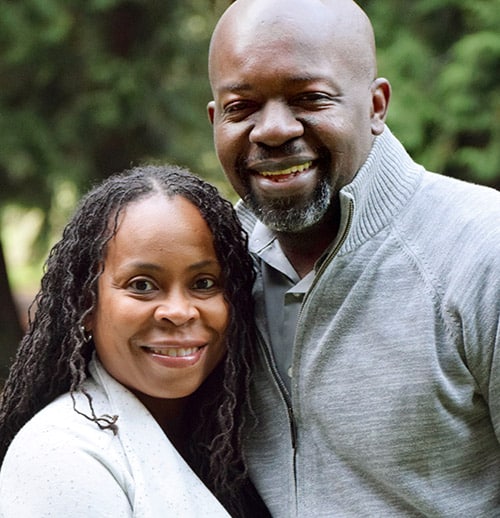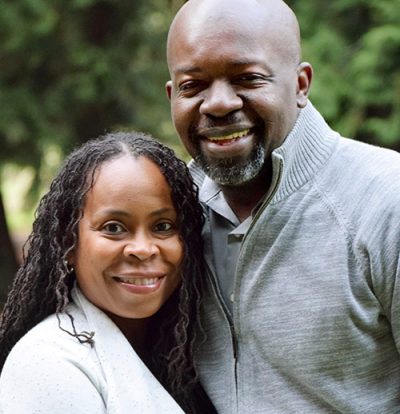 The Nehemiah Project was founded in 1999 by husband and wife Patrice Tsague and Gina Tsague in Washington D.C. Patrice and Gina both arrived in the United States in 1983, with Patrice coming from Cameroon, Central Africa and Gina from Haiti. During their high school years, they met at work and soon became friends. Patrice started his own business at the age of 18 and invited his best friend and chief encourager, Gina, to join him in his new venture. Through a series of events, this initial business idea evolved into the Nehemiah Project and Kingdom Business Coaching.
PATRICE TSAGUE AND THE SEED OF ENTREPRENEURSHIP

Patrice is from the Bamileke tribe of Cameroon that is known for its business and commerce. He comes from the royal family of Baleng. His grandfather, Chief Johnny Baleng I, was a renowned third-degree king in Cameroon and was one of the wealthiest men in the west of Cameroon. He made his money through farming, trade and serving as a translator for the British and Germans. Patrice's mother, the Honorable Francoise Foning, would outdo her father by becoming the most famous politician and businesswoman in Cameroon. She served as a member of parliament, mayor of the largest city in Cameroon and one of the national leaders of the ruling political party of Cameroon. As a businesswoman, she had several businesses in several industries employing over 1000 people, including: import, export, construction, furniture manufacturing, transportation, education, healthcare and food services. She also founded the Cameroon Business Women Association, the West African Women Business Association and was two-time president and the first African woman to lead the World Business Women Association (FCEM) headquartered in France.

A CRISIS LEADS PATRICE TO TAKING RESPONSIBILITY

Patrice grew up privileged and irresponsible. It would take a family financial crisis in 1993 to cause him to change. While in his freshmen year in college, there was political and social uprising in Cameroon. His mother's attempt to stand against the uprising led to her assets being burned and opposition attacks against her. This dark and painful season caused Patrice to put his educational aspirations on hold, which led Patrice to pursue his dream of following in his mother's foot steps and starting his own business. This decision would transform an irresponsible child into a responsible young man.

RESPONSIBILITY LEADS TO DISCOVERY OF PASSION

Patrice's initial business idea was to open Group Foning USA—a U.S. base of the family business—however, this idea never materialized. The challenges surrounding being a part of the family business would lead Patrice to step out on his own to create something that was completely separate from his family business, a venture he would have full control over. In 1994, Patrice started a consulting service with the goal of helping US companies do business in Africa. He also got involved in several direct sales companies, but it was not until Patrice was asked by friends to help them start their own business that he discovered his passion. Patrice launched an entrepreneurship club that evolved into a non-profit educational organization called the Multi-Cultural Youth Education Organization, Inc. (MCY) with the mission to teach entrepreneurship and leadership to youth and young adults.

PASSION LEADS TO SALVATION

Upon discovery of his passion, Patrice would leverage his love for business to meet the social needs of the community. He became a social entrepreneur, building one of the leading entrepreneurship educational organizations in the Washington D.C. area. He received accolades from various news media including the Washington Post and Channel 9 news. A statement he once made during this season was even published in Fortune Magazine: "If we are old enough to sell drugs, we are old enough to start our own businesses." Working with youth entrepreneurship education would lead Patrice to meet a Christian businessman named Tyrone Grisby who would lead him to Christ.

SALVATION LEADS TO CALLING

Patrice came to Christ in December of 1994, and one year later he received the vision to use entrepreneurship as a tool to empower the body of Christ and seek and save the lost. This vision statement would lead to the discovery of his life calling: becoming a marketplace minister with a personal mission to help individuals and families fulfill God's plan for their lives through business. This would also lead to the birth of Biblical Entrepreneurship, the Nehemiah Project and later Kingdom Business Coaching™.

EXPANDING BEYOND WASHINGTON D.C.

Though Biblical Entrepreneurship started in 1997, the Nehemiah Project would not be launched until 1999. The first expansion beyond Washington D.C. was in 1999 with the help of Patrice's mother, the Mustard Seed Foundation and Tyrone Grigsby. Through these relationships, the program was launched in Cameroon. In 2004, with the help of Dr. John Mulford of Regent University, Art Ally of the Timothy Plan and Glenn Repple of GA Repple and Company, Nehemiah began its national expansion, while carrying on its reach all over the world today.