With a mission to "transform the urban marketplace," the Nehemiah Urban Impact program is effecting change through tactics and venues that may surprise you. Rev. Charles G. Kearse, Director of Nehemiah Urban Impact, is driving community initiatives, training, coaching, access to capital, trainer and coach certification and resources through a diversity of platforms, including one of his favorites, Golf for Change.
Recently interviewed for Golf Course Trades magazine, Charles shared with the magazine's readers how the Nehemiah Urban Impact's Golf for Change program is helping to expose urban teens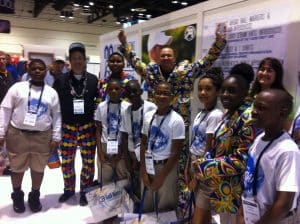 and young adults to opportunities for careers in the golf industry. Speaking directly to the magazine's readership, which includes Directors of Golf, Turf Managers, and Golf Course Superintendents across the US, Charles explained how the values of the game and disciplines of the profession can shape the lives of young and older teens, and in turn help inspire a future workforce for a industry that is continually challenged by a workforce shortage.
You can read the article in entirety on the Golf Course Trades website. We are pleased to feature an excerpt from the article below.
Golf for Change in the News
EFFECTING CHANGE FOR THE LONG HAUL
Golf for Change is part of the Nehemiah E-Community's Urban Impact initiative. Established more than two decades ago, the Nehemiah Project and E-Community is a non-profit global outreach committed to changing lives through entrepreneurship training and job and business development. A faith-based program, the Nehemiah E-Community provides training, coaching, scholarship opportunities, business capital, community and in select areas, business incubators.
Within the organization, the Golf for Change program was launched by Charles G. Kearse, Director of Nehemiah Urban Impact. Charles recognizes that taking pride in a job well done, respecting the environment, and being motivated to get up early or stay late because it is your responsibility isn't a value that children develop instinctively. In households where these standards are not demonstrated by parents, kids may not understand them.
For the past 20 years, Charles has been mentoring and coaching youth primarily from the inner city or underserved communities. "I've personally worked with roughly 100 urban children or teens, using the game of golf as a tool for engagement. Golf is a great way to share life skills and leadership and plant seeds of entrepreneurial development in young people. Everything about golf offers the opportunity for exposing kids to a social path of building positive relationships, values and life skills."
Through partnerships with First Tee of Massachusetts, Central Florida, and Charlotte, North Carolina, Charles has helped over 500 teens achieve goals including college graduation, career establishment, business ownership, and community development.
"From maintenance work to tournament prep to all the responsibilities in the clubhouse and pro shop, kids can't get interested in these jobs if they don't realize that the job even exists or that it is an option for them," said Charles. "They have to be exposed to the rewards of working as part of a team, doing a job well, and taking pride in their work."
Golf for Change is currently working in partnership with TopGolf and other business and golf industry leaders, including a partnership with NASCAR for high-visibility exposure linked with the many events leading up to the Presidents Cup, which in 2022 will be hosted in NASCAR's hometown of Charlotte.