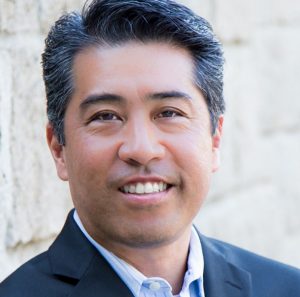 Our host, Robert Fukui is a certified teacher and coach and the president of i61 Business Development Network. Robert holds a Bachelor's degree in Marketing from San Jose State University and an accomplished 24-year career in marketing/sales with companies such as Coca-Cola, Novartis Pharmaceutical and Bristol-Myers Squibb.
Over the course of his professional career, he has been privileged to be instrumental in the launch of six major brands, personally responsible for over $150 million in revenue and a recipient of national sales and leadership development awards. His successful experience in sales/marketing through ever-changing economic conditions has positioned him to be able to assist other businesses to achieve similar success in any economic environment.
Please everyone…or please no one
As business owners, we tend to live by the motto "the customer is always right." We bend over backwards for our customers to make sure they have a positive experience so they return and hopefully tell their friends and family. This is a good rule of thumb but are there times where you may need to "fire" your customer, or say no? Sometimes if you say "yes" to one customer, it may have negative effects on at least two other customers. So by trying to please everyone, you may be pleasing no one. The key is to please the right customers. Click to listen to this lively conversation and hear some solutions about pleasing the right people with my returning guest, Allan Gray.
Listen up!… and improve company performance
The strategies that most business implement to grow their business usually involves marketing, creating new products/services, upgrading equipment/software/hardware, creating systems and reaching new markets. But how many times does the strategy involve listening to their stakeholders?
Active listening and communicating better with your stakeholders like employees, customers, vendors and the like could be the simplest yet most powerful thing you can do to improve company performance.
Power of the Pivot
WARNING for perfectionist and planners, this episode may make you squeemish!
This is the secret weapon to business success. There are all kinds of books, blogs, webinars and podcast that talk about various business growth concepts that revolve around marketing, leadership, and management but not a whole lot on this topic of the Pivot. All the topics mentioned require some level of planning. But the Pivot does not require planning. It relies on the owner and leadership to react properly when things don't go according to plan. Yes, sometimes plans don't go according to…well…plan. Shocking I know. So the Power of the Pivot is the secret weapon to business success. Click and listen to this powerful interview with Allan Gray of NuVision Kingdom Life Center.
The High Stakes of Exiting Your Business
Business owners are excited when starting their business and go through a series of highs and lows of operating and building it for success. While planning for business success is always top of mind, only a few plan for an exit until it's too late. Only 30% of all first generation businesses successfully transfer it to the next. Primarily because they start planning their exit too late not realizing what's involved and what's at stake. So listen to this episode where I interview Pat Ennis of Ennis Legacy Partners who have helped businesses plan and execute successful exits since 2010.
Random Marketing Thoughts
In this episode we're going to pepper you with various thoughts around marketing that can help you be more successful in your efforts. From social media, SEO, web design, writing good content, or choosing a good agency, you never know what topic we hit on that will help you out. Ready, set, click to listen!
Power Couples in Business
Many married couples do not want to mix business with pleasure. Doing business with your spouse is a disaster waiting to happen…or so they say. But if done right, not only can the marriage survive, it can thrive with your business benefiting as well. Take a listen as my wife, Kay Lee, and I interview the power couple of Jerome and Kelly Leonard of Taylor-Leonard Corporation.
Lead
Unlock the great leader that you are called to be. In honor of presidents day, let's look at the makeup of a great leader and see what type you fall in. In researching great leaders like George Washington and Abraham Lincoln, it is clear that great leaders are not cookie cutter like. They come in all shapes, sizes and backgrounds. So let this encourage you as you have what it takes to be a great leader. Listen in to this President's Day special.
What Prevents Growth Series: #3 Going Alone
Many entrepreneurs are independent by nature. They have a hard time conforming into a 9 to 5 office type environment and reporting to other people. So being a business owner makes sense because they are free to create and do what they want to do. While this works well for the most part, it does have its limitations.
This sense of independence also carries with it a sense of going alone. The entrepreneur typically feels like they have to do it all by themselves which may be why the business is not growing as big and fast as it could be.
Take a listen to this episode as we share how "going alone" may be holding your business back.
What Prevents Growth Series – #2 Being Too Busy
Can being too busy actually limit the growth of your business? Busy is what all business owners strive to be, right? Busy with serving right customers yes but many times the business owner is busy doing a lot of things like handling a lot of duties that are not necessarily productive for the business. And even when the business is busy with customers, sometimes it's not the right type of customers. Tune in this week and listen what this all means and what you can do to correct your busyness and grow your business.
What Prevents Growth Series – Limited Thinking
If you're looking to grow in 2019, you might want to ask yourself if your expectations too small. One of the primary reasons for no or limited growth is your limited thinking. This will shrink your vision and expectations and your actions will follow. So for 2019, expand your horizons and plan for bigger! Tune in and listen.