"I would have never believed a 14 year old could write a business plan if I didn't see it with my own eyes." – John Drakesmith, Retired Businessman, YBE Business Plan Judge
On August 3 – 8 2015, a group of 20 young entrepreneurs ages 12-18 from the inner city of Orlando, Florida participated in Nehemiah Project's first ever Young Biblical Entrepreneur summer camp! The camp, hosted by First Presbyterian Church of Orlando, took these enthusiastic, smart, innovative students through an intense five day program where the students developed their own business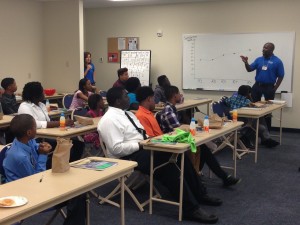 plans. The camp culminated in a graduation ceremony and "Shark Tank"-like business plan competition complete with cash prizes on Saturday, August 8, at the beautiful Da Vinci Center in one of the CNL Group skyscrapers. Ms. Jenny Arrison, Director of FOUR12, First Presbyterian Church's after school mentoring and tutoring ministry, and Mr. Nathan Shaw, FOUR12 Program Coordinator, worked with Patrice Tsague and Katie Klos from Nehemiah Project to teach, coach, and mentor the students throughout the week.
The week began on Monday, where Patrice and Nathan taught the students biblical entrepreneurship principles. Students learned about the benefits of entrepreneurship, why economies are important, how to take calculated risks, the difference between a business that honors God and one that doesn't, the essentials to creating a business plan, how to complete an industry analysis, how to develop a marketing strategy, and much more. Students participated in several games and activities to help explain the concepts.
To help drive entrepreneurship thinking, students were given 5 "BE Dollars" at the beginning of the week. Throughout the camp, they earned more dollars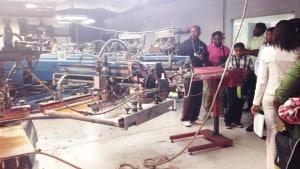 for good behavior and class participation, and they lost dollars for poor behavior and lack of participation. At the end of the week, students cashed in their BE Dollars for real money. Student also participated in a sales game, where they sold actual Cross Power products. The game taught the difference between retail and wholesale prices, and communicated the concept of making a profit.
On Wednesday, the group made a special trip to visit Stuph Clothing, a graphic design, t-shirt, and polo shirt printing company based in Orlando. The trip demonstrated what manufacturing looks like, as the students were able to watch the actual printing of their YBE T-Shirts.
Thursday and Friday were dedicated to business plan development. Several business professionals from around the Orlando area volunteered their time to
help the student teams develop and present their business plans. On Thursday, all students presented their plans to the business plan judges, and 5 were selected to compete on Saturday during the graduation ceremony and business plan competition.
Business plans included a lawn care service company that gave back to the community, a sing-a-gram business that allowed customers to send actual singers to residences and organizations as a greeting message, a theater training company, a Christian video game company, and many more.
Special thanks to Tom and Jane Sittema, Bruce Woodard, Rick Voit, Glenn Repple, First Presbyterian Church of Orlando, Dean and Jane Blankenship, Steve Cahill, Chris Campbell and all others that made this camp possible. 
First and second place winners will share their business plans during the BE International Business plan competition during Nehemiah Week on Sept 18th in Orlando.
Check out photos from the camp, below. If you are interested in offering a camp at your organization, please contact Katie Klos at kklos@nehemiahproject.org.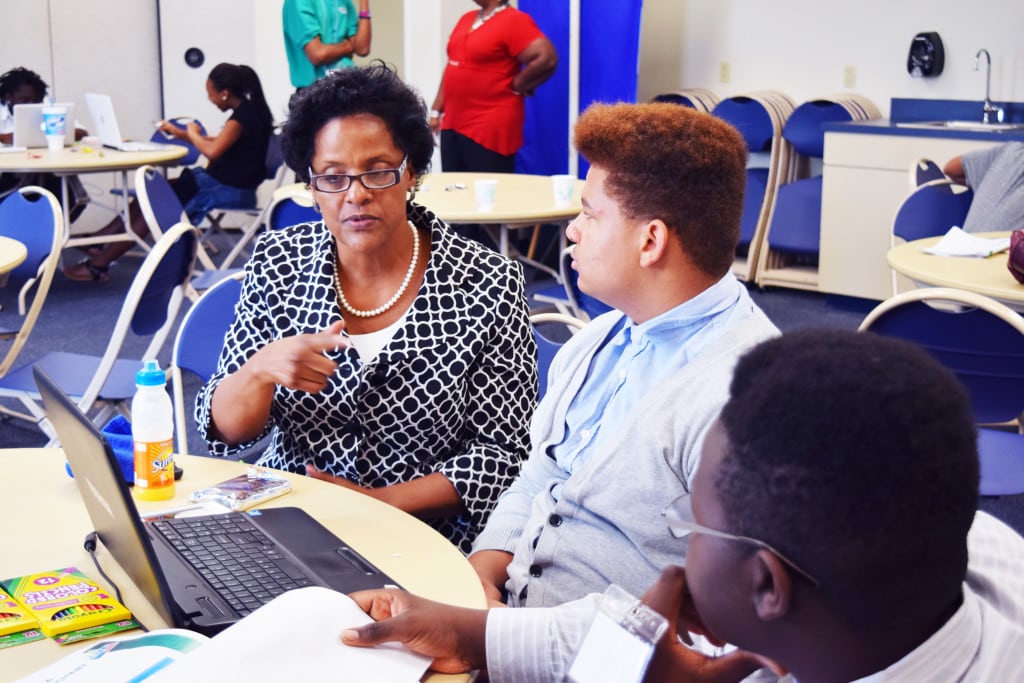 Jacinta Mathis, a BE Alum and local attorney, coaches a student group.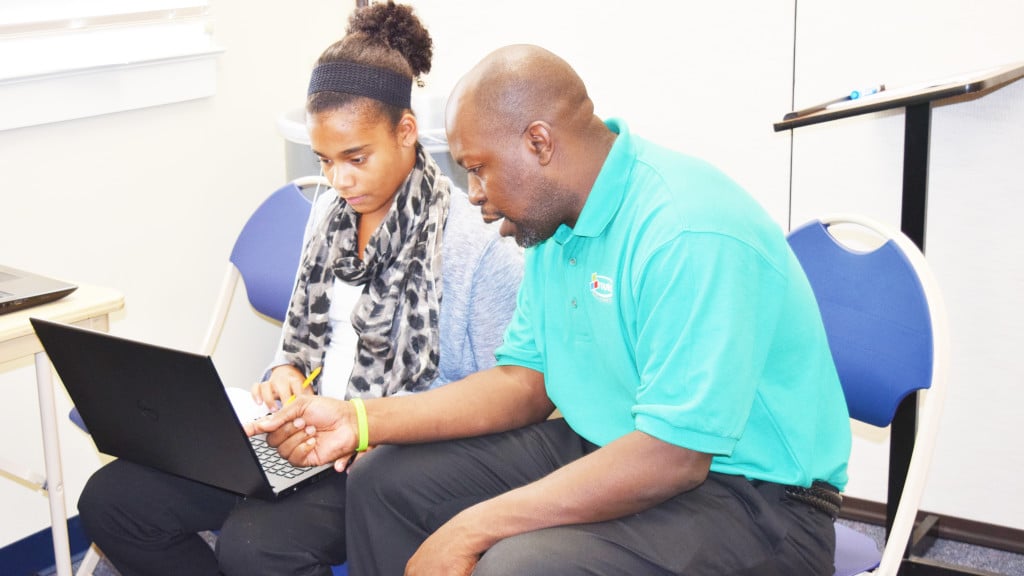 Patrice Tsague helps Trystin Thomas with her business plan.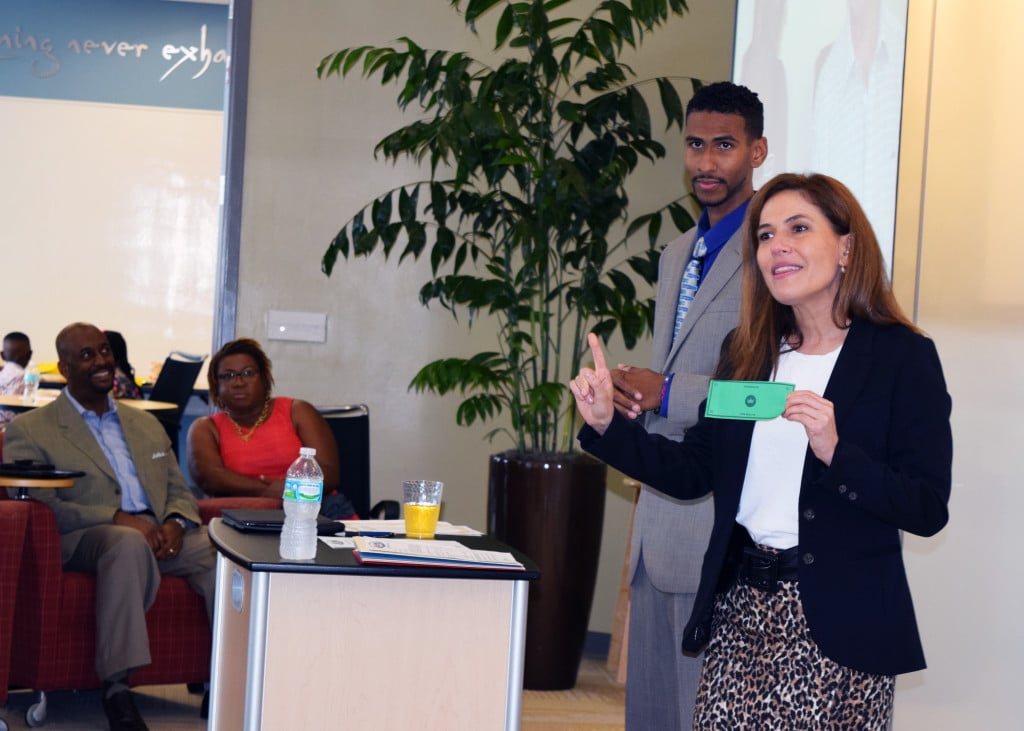 Jenny Arrison explaining BE Bucks to family and friends of the students at the Business Plan Competition.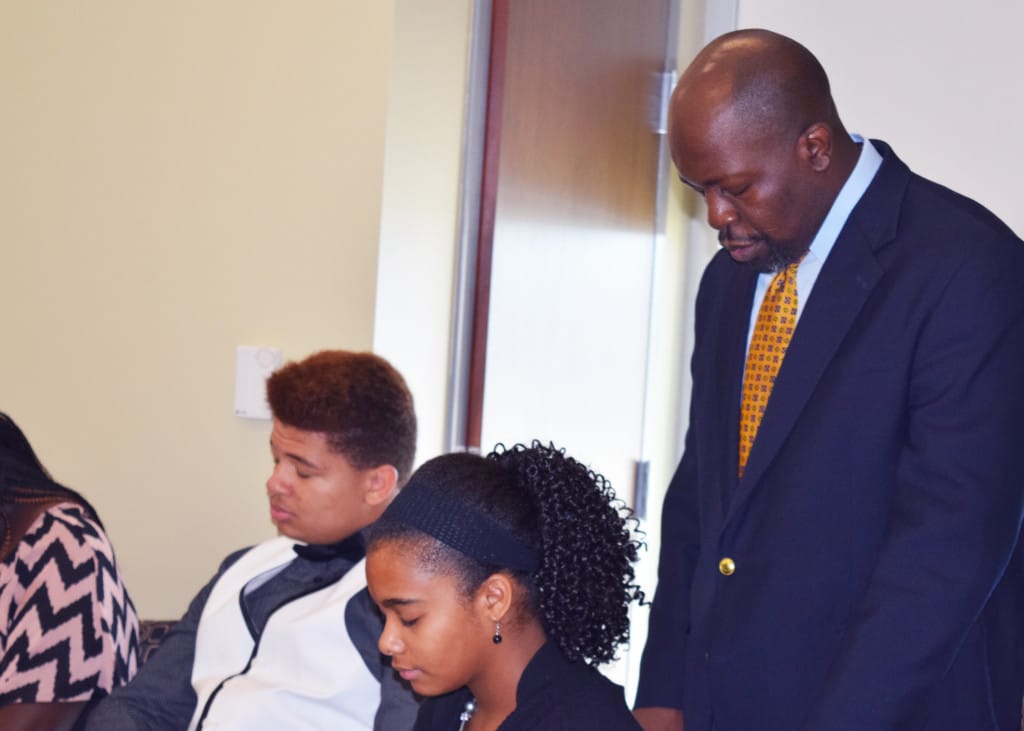 Prayer before the competition begins.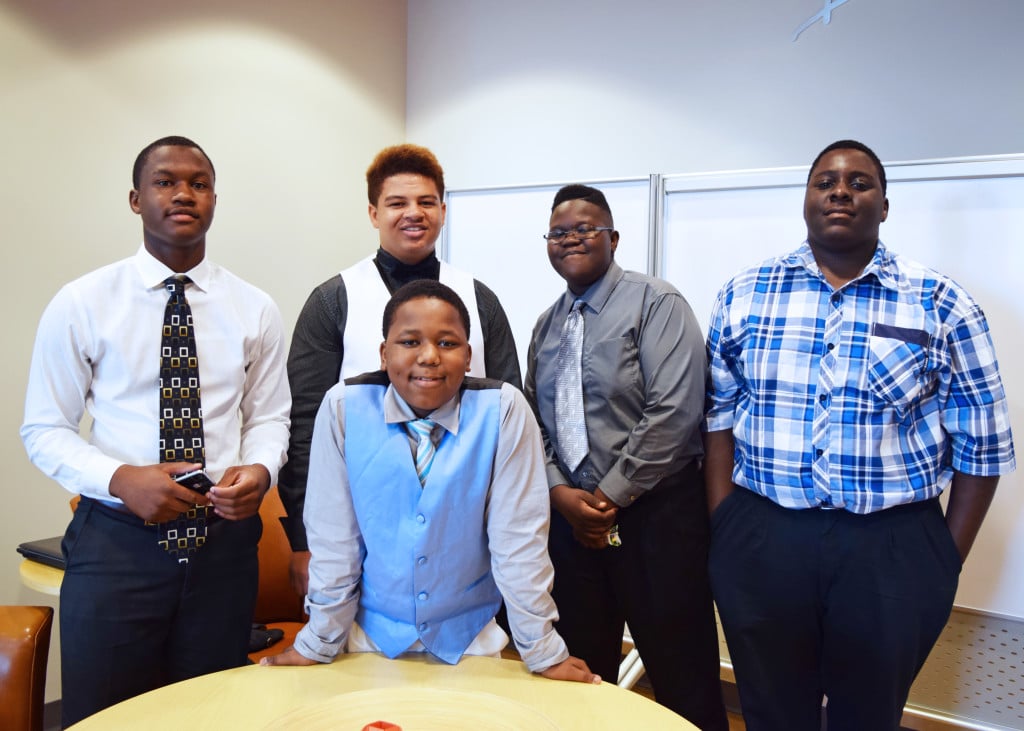 Some young biblical entrepreneurs getting ready to present!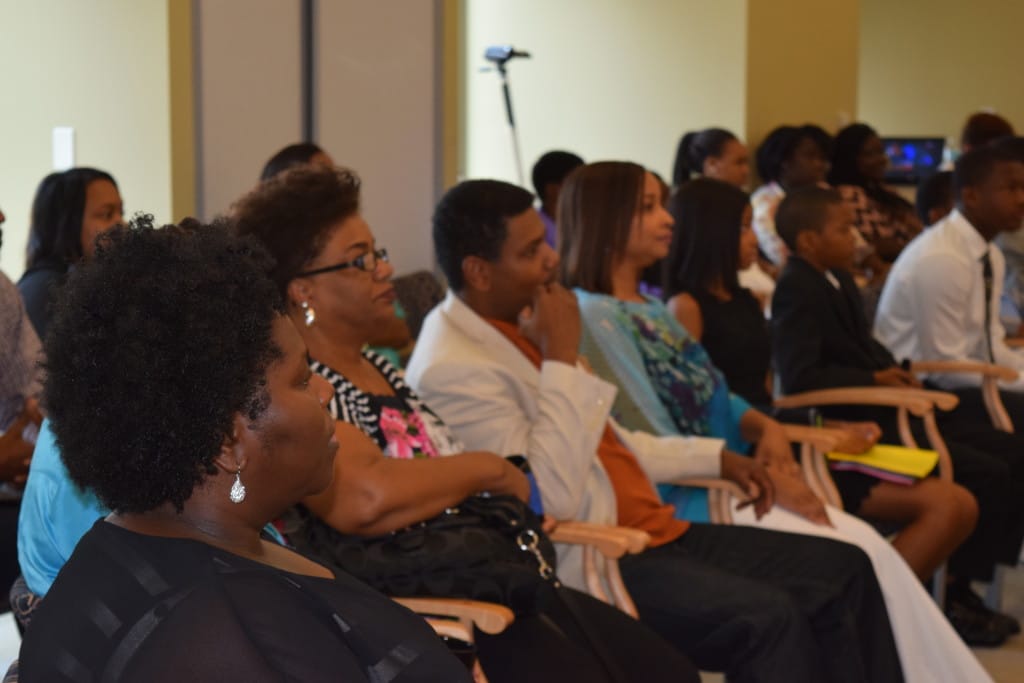 Friends and family came to watch the young entrepreneurs present their plans.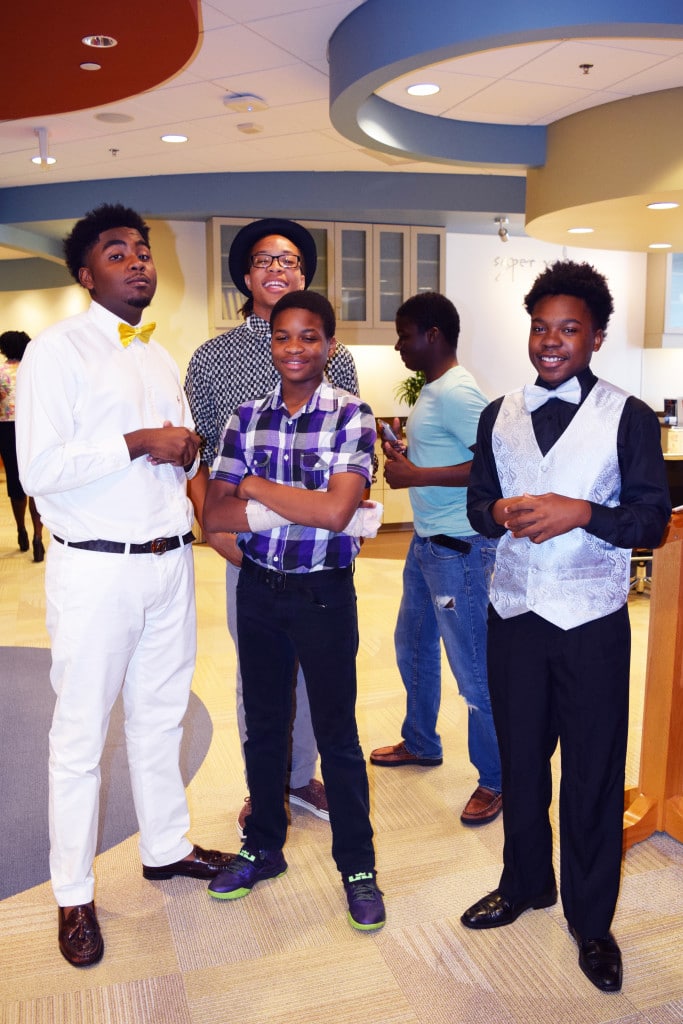 Confidence was in the air!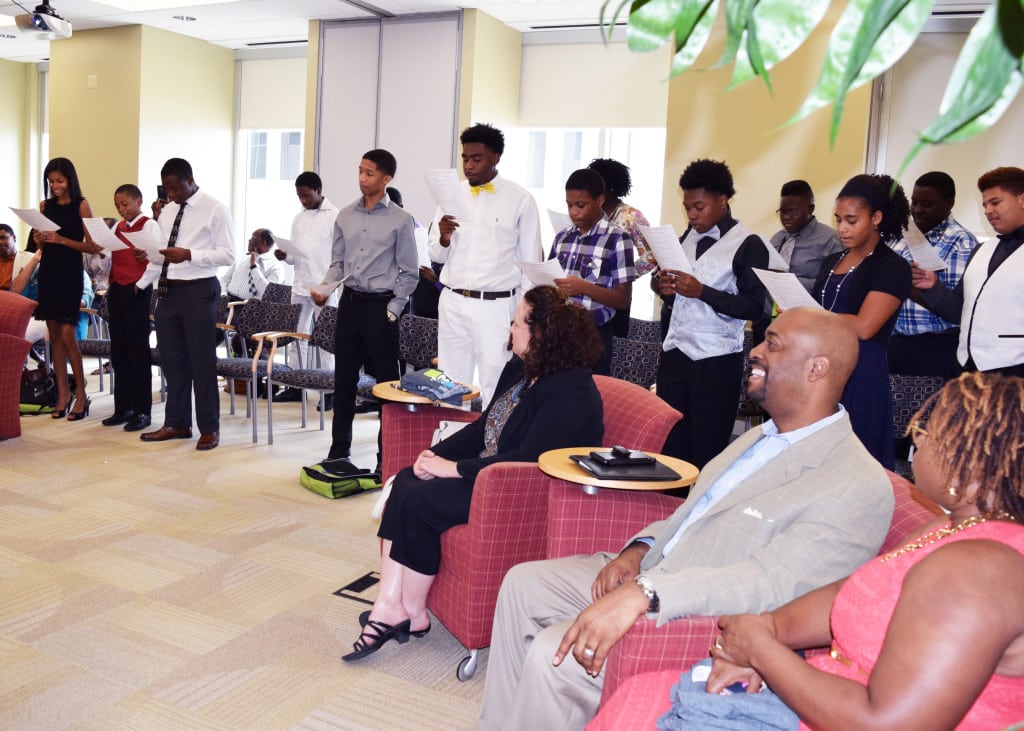 Students recited the BE Creed during the graduation ceremony.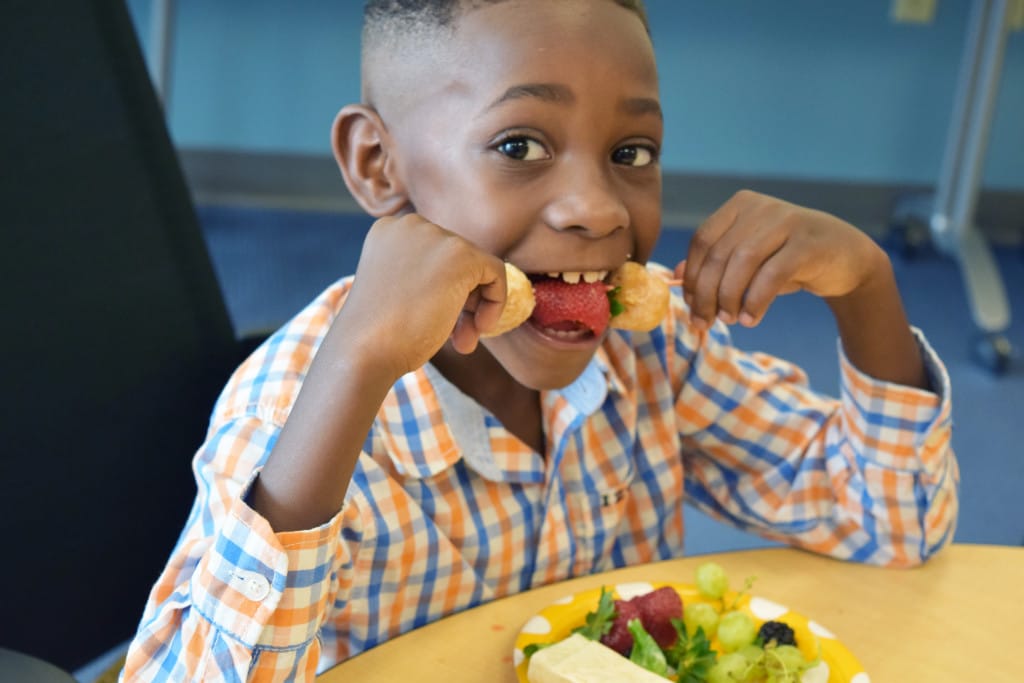 Special thanks to Elle's Kitchen for catering the graduation and competition event!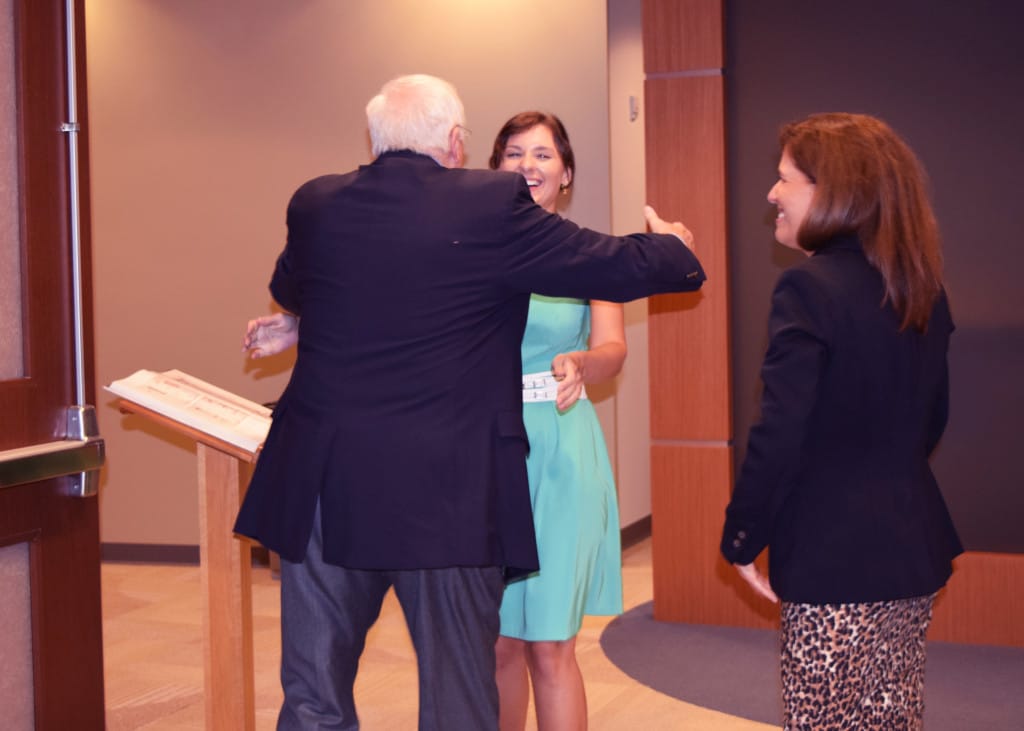 Glenn Repple, Nehemiah Project Area Developer and Instructor, enjoys fellowship with Katie Klos and Jenny Arrison.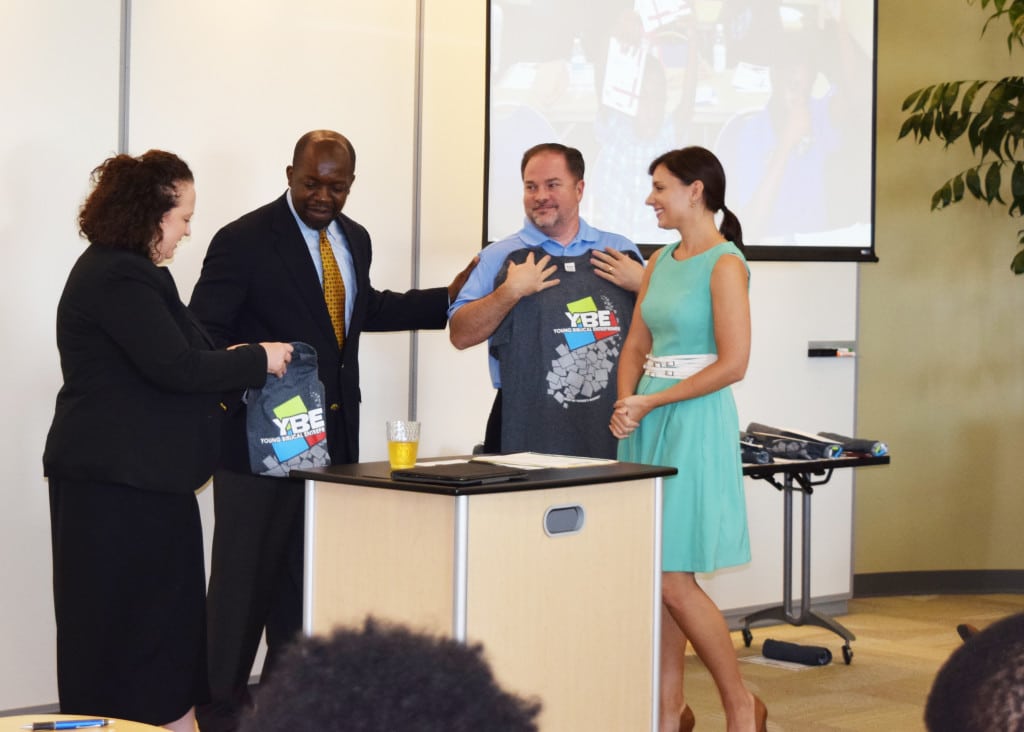 Carol Hafer (First Pres, pictured left, above), Patrice Tsague, Dr. Case Thorp (Senior Associate Pastor, First Pres) and Katie Klos present YBE Shirts to partners, donors and sponsors of the camp.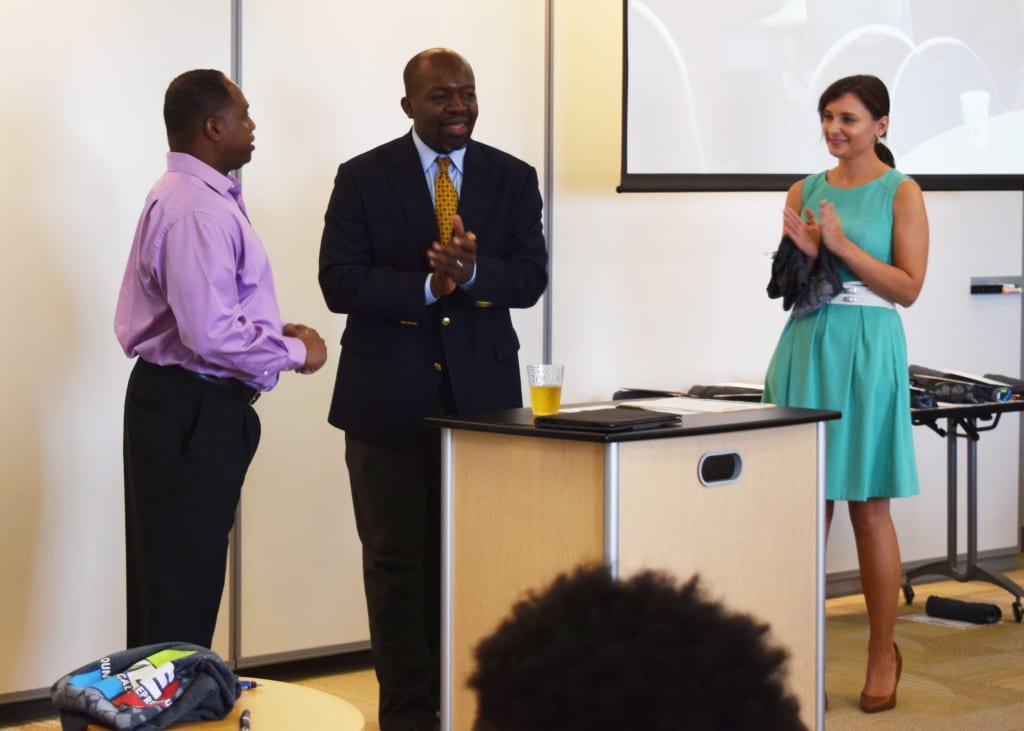 Pastor Larry Curry, pictured left, above, was an incredible help the entire week, coaching all of the students.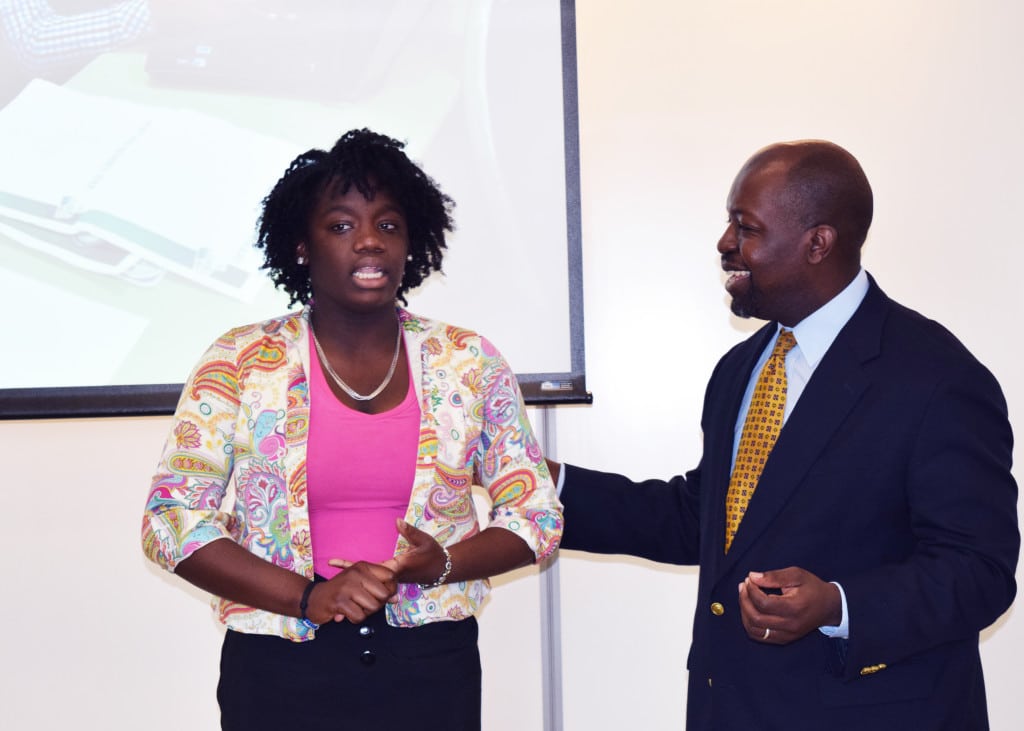 Najee McLean, YBE student, graced us with a solo at the competition. Najee developed a business plan for a sing-a-gram company with actual singers.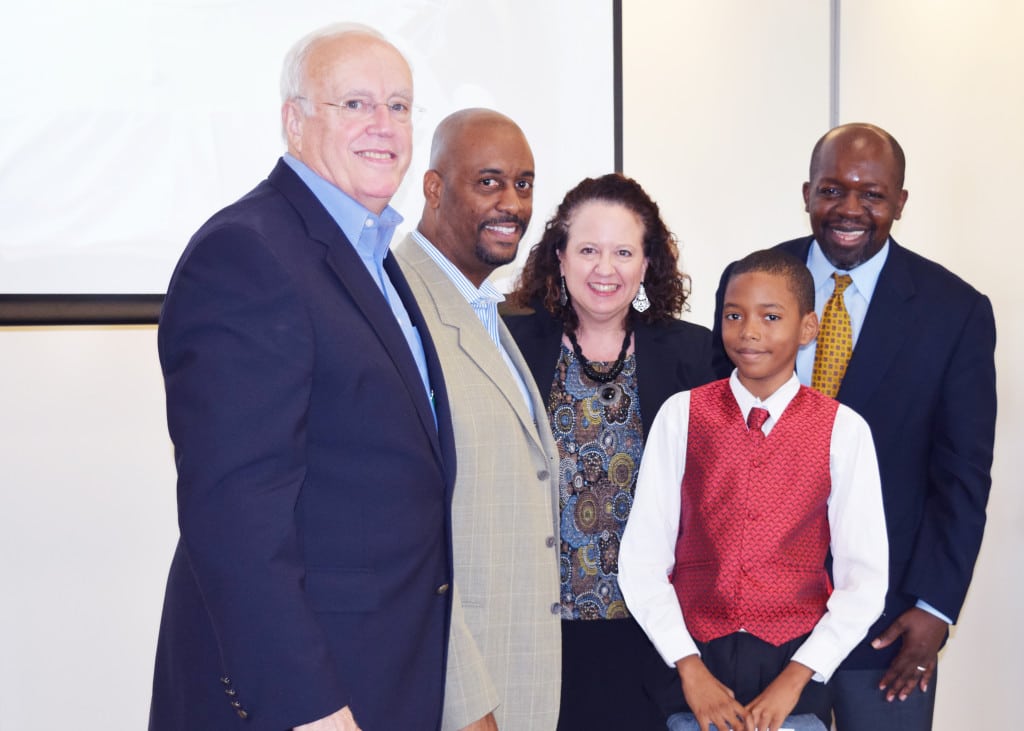 From left to right: Glenn Repple, Bishop Allen Wiggins, Carol Hafer, Jayden Austin, Patrice Tsague. Jayden won the third prize in our sales game.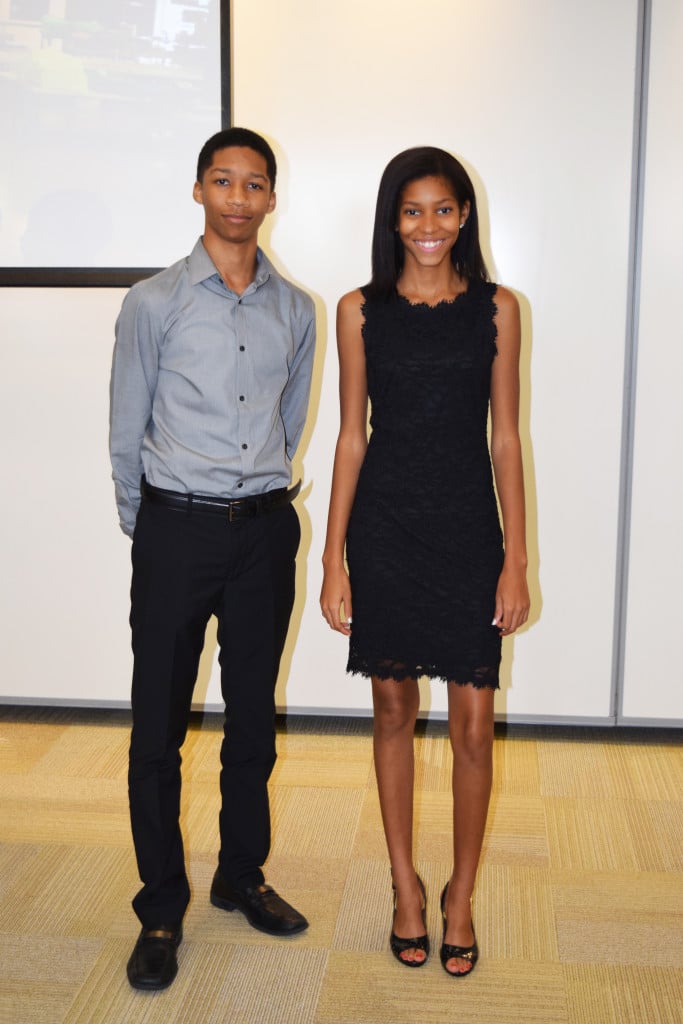 Cameron Knight, left, and Trinity Shaw, right. Trinity won first place in the business plan competition and received a $500 prize. Cameron placed second and received a $300 prize.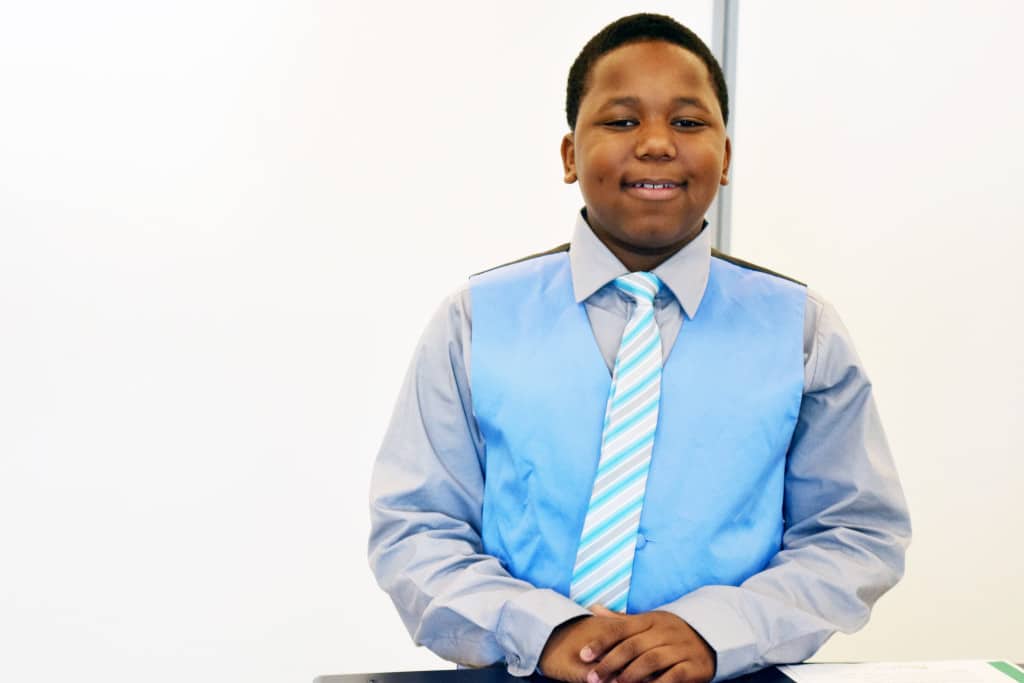 Jordan Peterson, a Young Biblical Entrepreneur, presented with his business partner, Tyric Cook.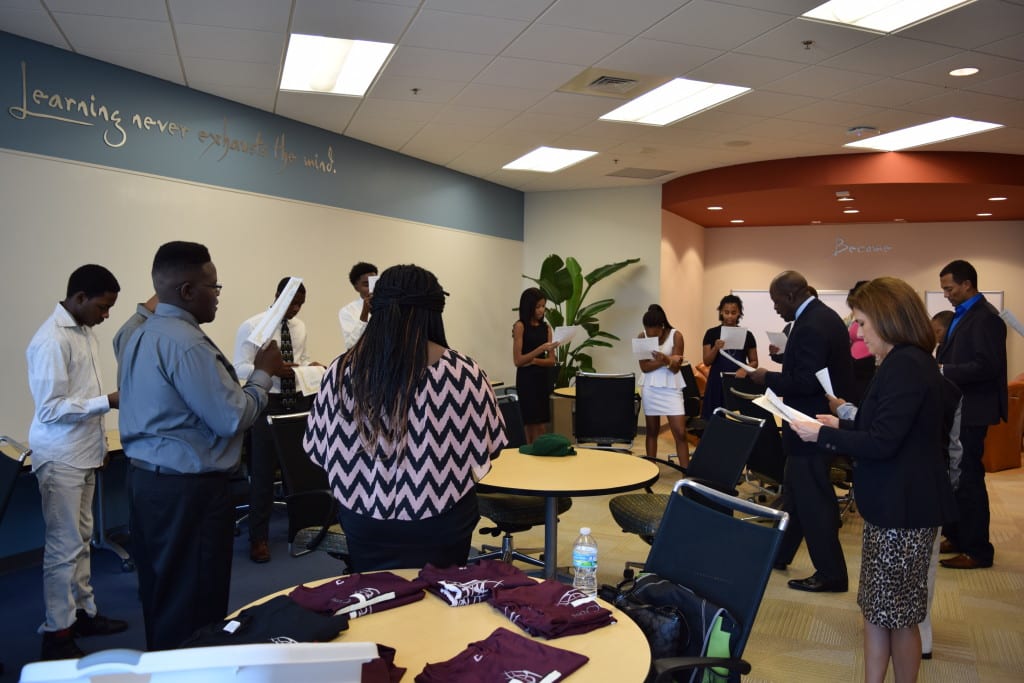 Prepping for the Saturday event.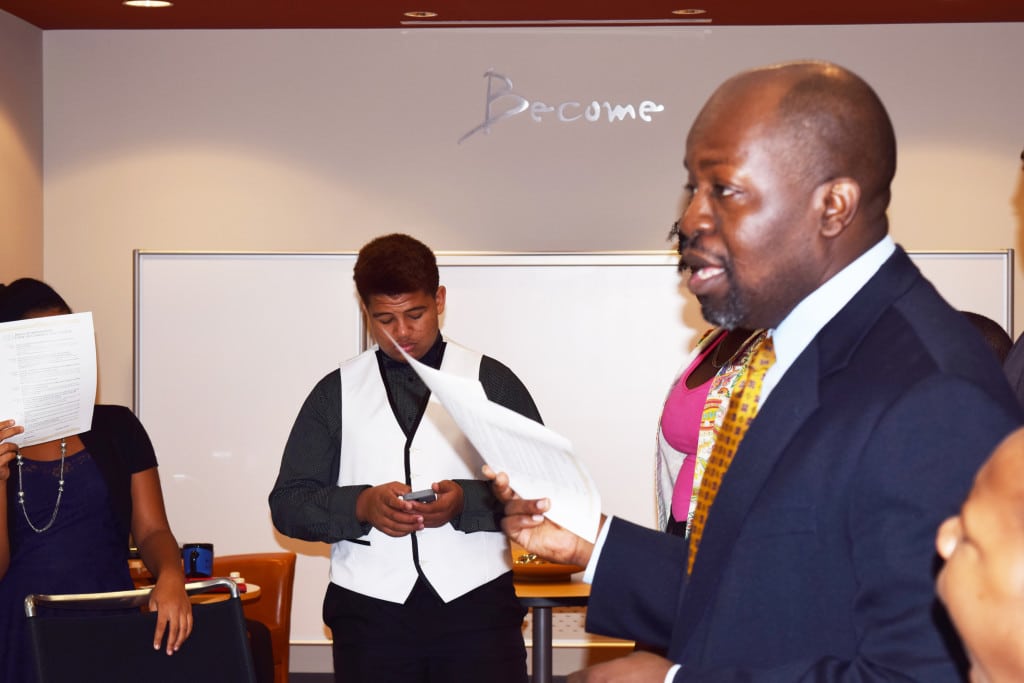 A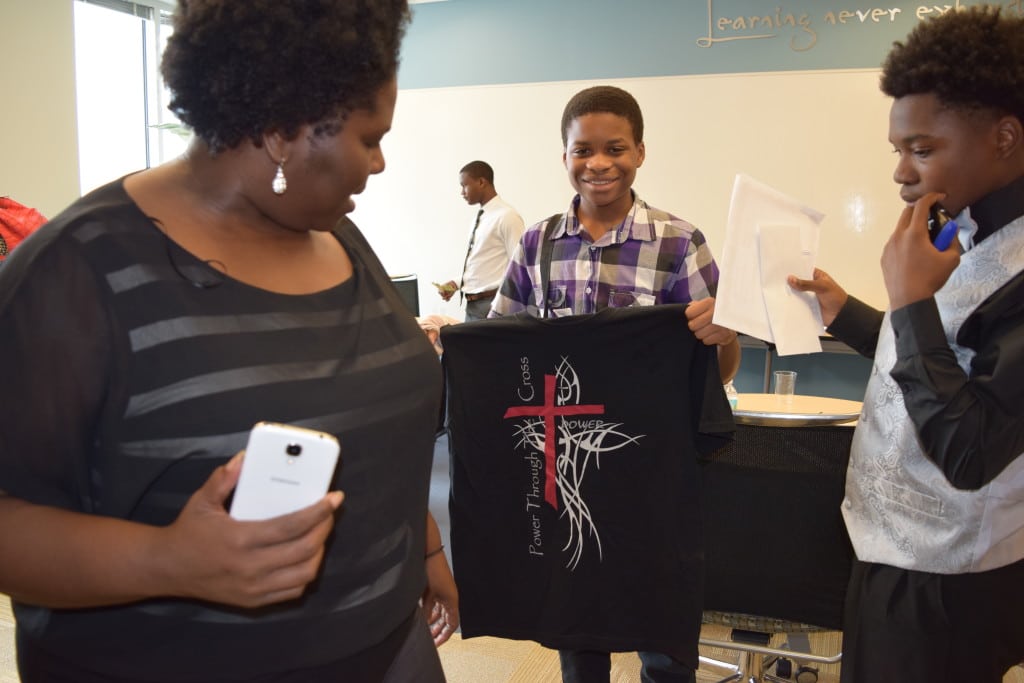 A Cross Power T-Shirt was one of the products the students sold in the sales game.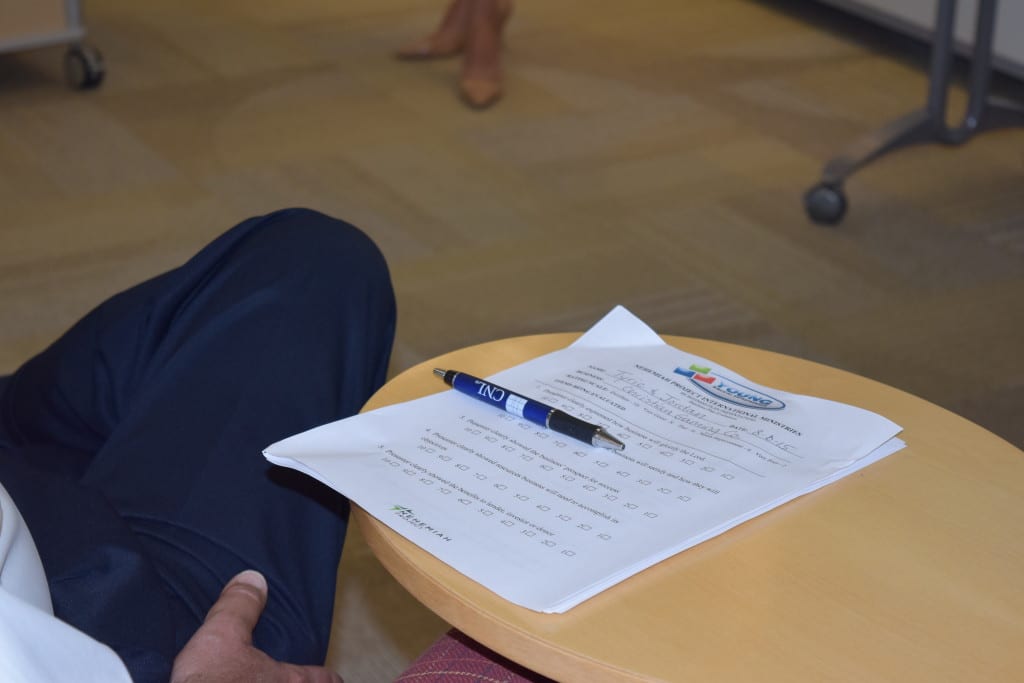 A judge gets ready to hear a business plan competition during the competition.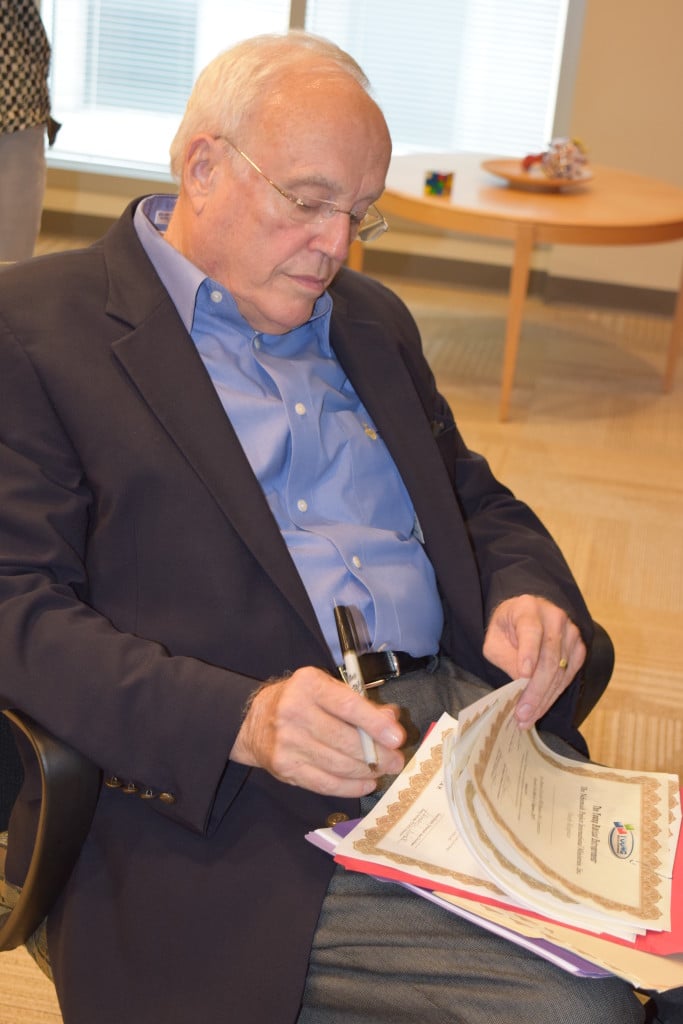 Glenn Repple signs award certificates.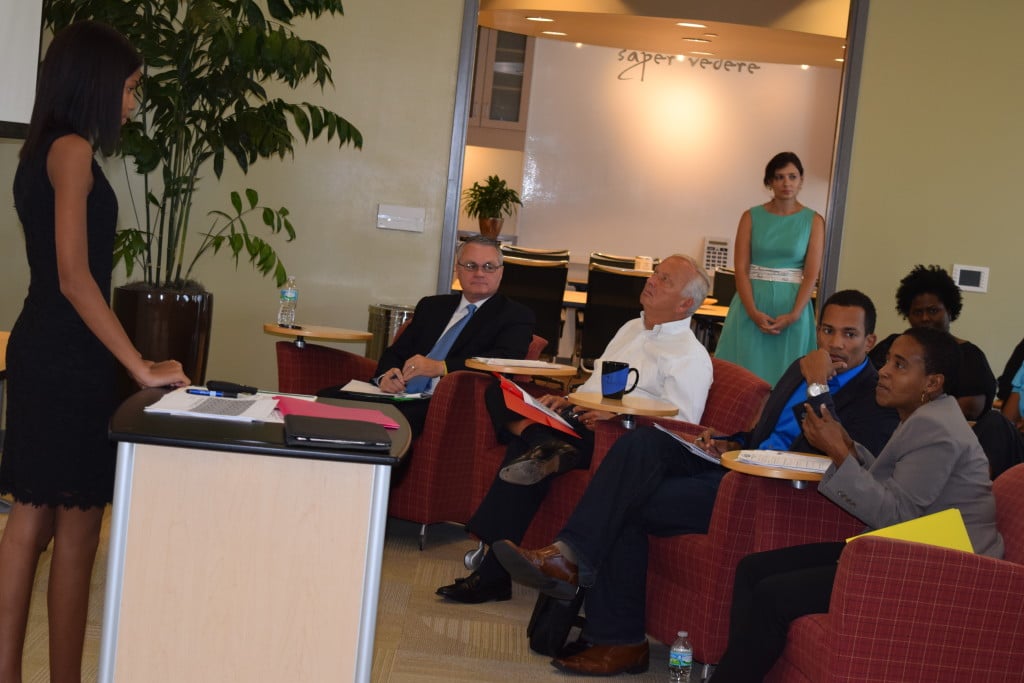 Trinity Shaw presenting to a panel of judges.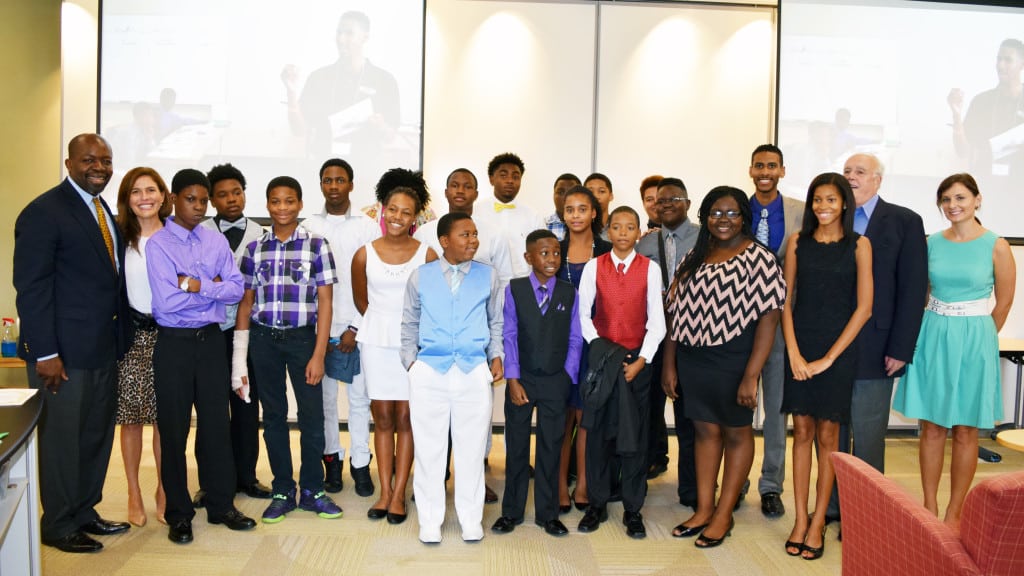 The entire team of students and leaders!