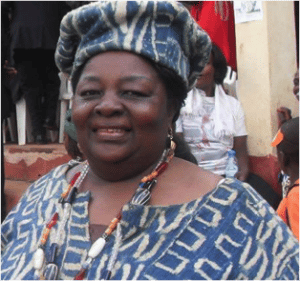 "Moses my servant is dead. Now then, you and all these people, get ready to
cross the Jordan River into the land I am about to give to them—to the Israelites.
I will give you every place where you set your foot, as I promised Moses."
Joshua 1:2-3
The people of Cameroon were in shock on Friday, January 20, when the media announced the death of the Honorable Francoise Foning, my mother. As the nation was thrust into a period of mourning with the rally cry of "I'm Foning", translated in French "Je suis Foning", this marked the end of an era. (click here for the I'm Foning YouTube Post )
Thanks so much to many of you who have been praying since her car accident on January 17. Many of you have asked to know more about this incredible woman who impacted my life and the life of so many people in Africa and the world. This summary of her life will give you a glimpse of who she was and why an entire nation and many around the world are mourning her death.
Who was Francoise Foning?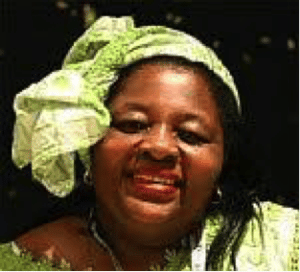 She was born a princess from the royal family of Baleng in Dshang Cameroon, an extension of the royal family of Bafou Dshang, the daughter of King Johnny Baleng I. She lived her life as a servant, a mother, a grandmother, an entrepreneur, a politician, a philanthropist and a humanitarian. She had 6 children, Solomon Tsobgny, Marie Noel Azeufack, Patrice Tsague, Cendrine Foning, Rosine Foning, Victor Foning. She committed her life to Christ in 1998 while in the United States on a business trip. She died a warrior, a queen and a stateswoman at the age of 66. She was the Moses of Cameroon!
Her Journey
Her career began as an employee of a municipality of Douala, Cameroon in the Office of Tourism. In 1967 she resigned as a government employee to start her first business, a restaurant called "New Style", and later created a transportation company with two taxis, which grew to 150 taxis at it's peak. She also established a company of gravel extraction called "Les Graviers Unis" (United Gravels), and an import/export food trading company called "Socamac." She purchased Anflo, a furniture manufacturing company that sold Italian-made furniture. She founded a clinic called "Polyclinic de la Main Noire" (Polyclinic of the Black Hand) and a secondary school called "Fraternité" (Brotherhood) of Douala. She owned, all together, 15 to 18 businesses throughout her lifetime and employed over 1900 people. She also founded the Cameroon Business Women's Association, co-founded the regional African Business Women's Association and became the first black woman to become president of the World Business Women's Association, founded in France in 1945, with 5 million members today in over 150 countries. She was elected for two-term presidencies and had to step down due to term limits. (http://fcem.org/contact/bureau-mondiale/)
Her political career, which lasted over 25 years, began as a community organizer to the head delegate of the party in her region. It evolved to becoming a member of parliament, vice chair of parliament, a member of the National Executive Committee of the ruling party, and then to three-term mayor of the largest city in Douala. She was the national face of her party and the most vocal and influential supporter of Cameroon's president, Paul Biya. She was famous for leading the masses into songs and dances in honor of the president and first lady.
Her Achievements
Her achievements range from business to government, and from national to international, including:
Entrepreneur
Special Advisor to the President of Cameroon
Three-term Mayor of Douala V until her death
Member of the Central Committee of the National Party
Two-term President of the World Business Women's Association
Retired member of parliament and Vice-chair
Executive Vice-president of African Businessmen Round Table
Founder and President of Businesswomen Group of Cameroon
President of African Network for Women Entrepreneurs, International Vice-president of French-speaking Forum of Business
Consultant in finances and managements at African Development Bank
Permanent Secretary for Central Africa of Training Center AGOA (African growth opportunity Act)
She also organized several business mission trips with large delegations of entrepreneurs to Europe, Asia, Central America, other African countries, and Latin America to foster international trade, investments in government relations for Africa. She gave generously and used her influence to help millions, sponsored local social programs, provided scholarships to thousands of children, medical care to thousands, adopted hundreds of children, sent hundreds of children overseas and supported various charities. She was known as the "go to" person for anyone poor or rich who needed government intervention and support. International corporate executives and leaders who relied on her assistance to do business in Cameroon called her "The Bulldozer". Cameroonians called her "Iron Lady", "the heavy weight of the party". She has received numerous awards. Some of the most notable ones are: Grand Officer of Cameroonian Merit, Queen of Bafo (Ménoua) and Njih (Award in Sultanate Bamoun royal court).
Her Cause of Death
On January 17, while on the road to attend a funeral in her native village from the capitol, after attending the National Assembly of her party, her driver lost control of the vehicle while trying to avoid a speeding motorbike. Her vehicle overturned several times, leaving her with a broken leg and 4 broken ribs. She was rushed to the emergency unit of Yaoundé Central Hospital where she was stabilized and then prepared to be evacuated to Paris, France, for further treatment. Though the government approved the authorization of immediate evacuation, the medical jet never came and she died 6 days later. While she awaited evacuation we prayed together as a family, she asked her children to forgive her of anything she may have done (or not done) as a mother to offend them, encouraged us not to allow anything to divide us and to help each other.
What is Next?
As sad as her death is to us as her children and to all of those who knew and loved her, her death is not the end, but the beginning of a new era. She was the Moses of her generation, among the post colonial leaders who saw a vision of the promised land for Africa, but never fully realized it. She used her business acumen and leadership skills to bring Africa to trade in the global marketplace and to show the world that Africa can compete globally. She was among those who believed in the power of a strong central government and national party, but understood the wisdom of making way for democracy. Those aspirations were never fully achieved, however, because she was also a victim of her own times. With inspirations from her life we start a new era. We will preserve her legacy by establishing the Foning Foundation, an international foundation with a commitment to preserving her legacy and supporting the ongoing efforts that she worked all her life for. These include: entrepreneurship and innovation with an emphasis on women in business, education, leadership development, political advocacy and public service, as well as spiritual enrichment in Cameroon and other developing countries.
How to Support
Pray that God grants us the wisdom and strength to continue to persevere towards the Promised Land.
Commit to supporting Africa and other developing nations to realize the honorable Francoise Foning aspirations.
Partner with us financially to establish the Foning Foundation to ensure that her legacy is preserved and her mission continues.
To make a contribution, click here or send a check to Nehemiah Project International Ministries and note "Foning Foundation" in the memo, or contact Katie Kaverah at Katie@nehemiahproject.org
Celebration of Life
Plans are being made now to finalize the celebration ceremonies for her life and her burial. The activities will take place in Yaoundé, the capitol, Douala, her place of residence and Dshang, her birthplace, from March 18 to 21, with the burial on March 21.
For other news and interviews about this beloved woman, my mother, click on the YouTube links below:
Announcement of death by media