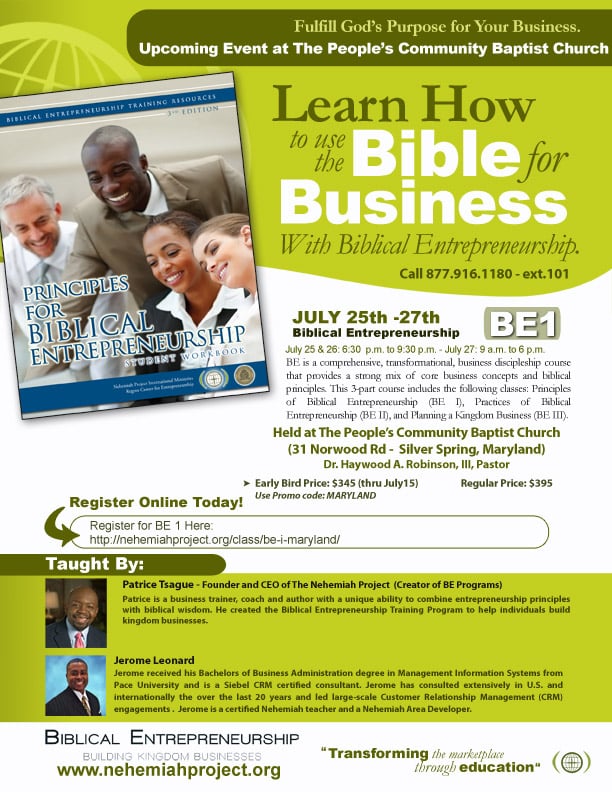 If you live in the Montgomery County, Maryland area, please join us for Biblical Entrepreneurship I on July 25-27 at The People's Community Baptist Church (31 Norwood Rd – Silver Spring, MD).
Early bird rate available through July 18th.  Use promo code MARYLAND at checkout to receive $50-off your registration.
Don't live in Maryland? 
Check out our "Find A Class" page for other BE I opportunities in your area!
Our "Find a Class" page also lists opportunities for Nehemiah Kingdom Business Seminars, BE II, BE III and The Biblical Apprentice.
The Principles of Biblical Entrepreneurship course (BE I) is the first of a three part course that provides a strong mix of core business concepts and biblical principles.   BE I is designed to assist students to enhance their current business or start a new business that glorifies the Lord and meets market needs using the Bible and a Biblically based curriculum entitled "Principles of Biblical Entrepreneurship." The course also helps students learn how to identify opportunities, take calculated risks, solve problems, exercise stewardship over a business for biblical profit while developing a Christ centered character and attitude.