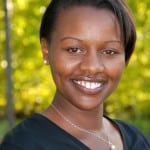 Nyawera is a Biblical Entrepreneur in Nairobi and founder of Cedar Consulting, Ltd. Cedar Consulting is an HR and Change Management company serving indigenous medium and large companies in Kenya.  She took BE I and II in 2012 and has grown her business to $163K in annual gross revenue.  That is over 14 million Shillings in their local currency.
Nyawera just completed BE III this last week where she revised her business plan. Nyawera is currently the main breadwinner of her family, employs four people, excluding herself, and commits 10% of her gross revenue to the support of her local church.
1.     What is your business and when did you start?  I run a professional services firm specializing in Human Resources Management and Change Management called Cedar Consulting Ltd. based in Nairobi, Kenya.  We service clients in the financial services sector, the government and medium sized organizations.  I began Cedar Consulting in 2012 after leaving a full time job at PricewaterhouseCoopers.
2.     When did you take BE?   I took BE 1 in February 2013, BE II in June 2013 and BE III in December 2014.  I was also trained as a teacher in July 2014.
3.     Where was your business when you enrolled in BE?   Before I took BEI I was running 2 businesses; Cedars Consulting and a retail store selling maternity and nursing wear.  The retail store, which I had been running for 2 years, was not doing well.  The maternity business was still at start-up stage and because I using the revenues to fund the store from Cedar's I was beginning to feel the strain.  At the time of the class, I actually thought of Cedar's as my side business, although I was doing it effortlessly and making money.
4.     What impact did BE have in your life and business?   During BE, my heart and walk with God was first transformed.  I had been a believer for 14 years but there was a circumcision that took place.  Prior to taking BE I had been in conversations with Patrick Kuwana trying to figure out why the maternity business wasn't doing well.  He probed over a few months and eventually advised I take BE.  When I completed BE, Patrick visited Cedar's (then located in a REALLY small room).  We reviewed my maternity business and discovered there a part of my challenge was I was not consistent with the word of God and how that word related to taxes.  In my naivety, I was out of sync with the word of God and no amount of fasting and praying was going to change that.
February 2013 was a very painful month.  It was then that I took the hard decision to close the maternity business because trying to do it legally would not work.  The tax implications were very high and there was no way to make profitable margins.  I remember crying for one whole week when I thought of the investment we (mostly my husband) had put in –almost to the tune of KES 5 million or USD 50,000 which was about to be washed down the drain.  I actually felt like a failure and having always been a top performer throughout my career this was hard.  The scripture the Lord gave me in that week was Revelation 3:7 'what he opens, no-one can shut, and what he shuts no-one can open'.  Even as I closed this business, Cedar's was growing.  In April 2013, we had so much work at Cedar's that we had to move office locations and hire staff.  We moved to a bigger office and recruited two staff.
5.     How has your business gown in the last 12 months?   In the last 12 months, Cedar's revenues have doubled. We moved from having one client to a client base of 12 and now 4 staff.
6.     How did the coaching Patrice do with you impact your business?   My biggest handicap is my mind. I am often prisoned by thoughts and beliefs based on the past, traditions or just man's opinions.  The impact of that is frustration, lack of peace, anxiety and stress.  The one-on-one sessions we had liberated me.  It's weird but I actually felt free.  Free to create, free to think, free to turn my thoughts upside down and not worry if it makes sense or doesn't.
The coaching also humbled me because it made me realize the responsibility to keep my eyes on God, immersed in His word and following His blueprint.  I still have quite some praying and reflecting to do as the team and I plan for 2015; which I believe will be a year of overflow, but in a structured, systematic, peaceful and stable manner.  After all God is a God of order and decency.
7.     What did you learn from BE III that will have an impact on your business?   My biggest take away from BE, is that running a kingdom business does not just happen but one has to be intentional and focused.  My business model needs to be revised so that it is sustainable going forward and the risks that I hadn't initially envisioned are managed.  Managing costs is critical for me. To do that I must think out of the box on how to do this well and at the same time run our operations efficiently.
The other key learning objective was the strong need to have a business mentor and coach that can challenge my thoughts and assumptions but also keep me accountable in my walk.
8.     What is your business long-term vision and goals?  I see Cedar's as a pan-Africa company, possibly franchised, kind of like the PwC model.  I see us transforming and impacting corporate Africa.
9.     How many employees do you have now and how many do you project in the furture?   Currently we have 4 employees, excluding myself and we have a team of 3 sub-contractors.  In the coming year (short term) I anticipate we may grow to 5-6 employees, excluding myself and in the medium term 10-15.  Long term I envision subsidiary companies in Africa.
10.  How do you contribute through your time, talents and treasure to your community and your local church?   I lost a 9-month pregnancy in 2012, two weeks to my delivery date. This begun part of a deep wilderness for me.  I made a choice thereafter that the path to my healing would be through ministering and comforting other women who were walking in my very shoes.  I begun a ministry called Children Are A Gift- (CAAG) and would host and sponsor a monthly meeting for women who had lost pregnancies or infants.  The Cedar's boardroom was the venue and each month I would invite a guest speaker to encourage and minister to the women that would attend.  I wouldn't know if anyone would come but by faith would hold the meeting.  Tea was made in my house and my husband would sometimes sponsor appetizers.  In 2013, I conceived again.  I continued with the meetings until I had my son in September 2013 and stopped them to enjoy the season with him.  Since then I have walked with a few women on a one-on-one and now praying for God's direction on where He would want to use me.  Cedar's is located on a penthouse floor so I dubbed the boardroom, the upper room.  Many prayers have been prayed there and if the Lord desires to continue to use it for ministry then that is the direction I will take.
11.  How Lift up and Nehemiah support your growth?   Nehemiah and Lift Up can support Cedar's through connecting us with potential strategic partners especially in the professional arena – technology, business advisory, HR and Change management professionals.  Change Management professionals' are difficult to come by and attracting and growing that kind of talent is difficult, so opening us to a global network would help a great deal.
My desire is to do work outside of Kenya, in the short and medium term especially Rwanda and Uganda, in the financial sector and government so connections and networks would help a great deal.
I see expansion in the long term (5 years) so capital injection to execute our expansion and investments.
Please join us in congratulating Nyawera as Nehemiah Project's Biblical entrepreneur for the month of December.