Join us in Congratulating to Glenn Repple for being nominated as NPIM's Alumnus for November 2014!
Glenn's journey of preparation in the Financial Services industry started in 1972 and eventually led him become a Regional Vice President of E. F. Hutton Financial Services.   His responsibilities for them were to recruit and train Attorneys, CPA's, Insurance Agents and Stock Brokers for their offices and to provide collaborative and comprehensive financial planning for their clients.   After 10 years of corporate training and experience, and with an expanded passion for serving people, in 1982 Glenn left E. F. Hutton to start G. A. Repple and Company as an Independent Financial Planner.
Since its founding, G. A. Repple and Company has expanded to 80 offices that are nationally licensed in all 50 states.  G. A. Repple and Company has assisted in the formation of over 200 foundations and has raised over 100 million dollars for missions of various charities, ministries and foundations.
Glenn is a Certified Teacher of Biblical Entrepreneurship. He has trained over 300 business leaders who have likewise spread the teaching into 19 different countries.
Glenn's greatest life treasure is found in his wife, Joanie of 41 years and his children, Bryan Repple, Kimbi von Ancken and son-in-law Erik von Ancken.  Glenn and Joanie have two fantastic grandchildren, Sydney and Luke von Ancken.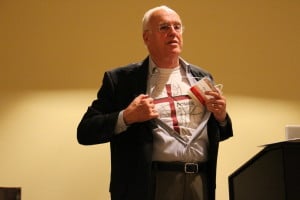 Glenn is Nehemiah's own superhero. We appreciate and thank Glenn for his many years of service.  Below is an interview we had with Glenn.
1. How did Biblical Entrepreneurship impact your understanding of God's plan for business?
It helped bring into alignment the intersection of God's Word and business. My understanding of business was secular and the sacred was only found on Sunday.  I thought that, to be in full time Christian Service was to be in the pulpit or the mission field.  Now, my understanding is totally clear, as followers of Christ Jesus, we are called into "work place ministry."  We are ambassadors in the marketplace.  Each market place business ambassador is a Church Plant, bringing the Gift of Righteousness, the Good News of the Grace of God, to the people in their influence.  We are called to proclaim the freedom we have in Christ Jesus. We are no longer a prisoner in bondage to sin and death because of Jesus Christ. We have been set free and are the righteousness of God, in Christ Jesus and therefore there is now no condemnation in us because we are in Christ Jesus!
2. Why do you support Nehemiah Project?
Nehemiah Project International reflects the "Body of Christ." Nehemiah Project is; different cultures, race, denominations, sex and political parties coming together in "ONE SPIRIT."  It is truly the "Body of Christ," working in unity, to further the Great Commission.  This is a ministry which has one agenda, to further the Kingdom of God around the world.  I have personally watched and witnessed God's gracious hand change lives, families, churches, businesses, and communities through the transformation power of God's Word, in Biblical Entrepreneurship!  I have witnessed the healing of lives through this ministry and have seen the unleashing of God's resources.  As God's Word is embedded into the hearts of students, there is a release of living water which flows through them, into their families, business, church and community.  The Kingdom of God's impact cannot be described in words.  When you witness people from 14 different nations speaking different languages, worshipping, and praising the Lord, you know the Lord is a part of Nehemiah Project International!
The Word of God does not return void.  I smile when I think of Tom Stansbury, who was a student in a BE Class, who took what he learned to Ukraine and train a man by the name of Ivan Papish, who then took what he learned and trained hundreds of others.  Svetlozar Nikolov was one of those sitting in his class, who then took what he learned to Bulgaria.  And so on it goes!
I have witnessed the leadership of First Presbyterian Church of Orlando, with the help of Carol Hafer, Case Thorpe, and David Swanson embrace Biblical Entrepreneurship to impact the City of Orlando and take Biblical Entrepreneurship to Madagascar to bring transformation to this nation.
Nehemiah Project International is experiencing 100 fold increase. This is a great place to invest time, talent and treasures!
3. What does it mean to you to operate a Kingdom business?
Operating a Kingdom Business is the way business was intended to be run.  Work is a form of worship.  Work is redemptive and blessed because of Christ Jesus.  Work is man's way of serving others to bring Glory and Honor to God.  How we serve is a reflection of God's love and grace. The scripture of he who refreshes others will himself be refreshed, is an expression of a Kingdom business.
Being a Kingdom business does not mean there are no problems related to vendors, employees, family, financial, industry or the government. It means we have the Kingdom of God mindset, to overcome every issue, problem or circumstance.  We have God's promises through HIS WORD which is greater than anything which will come at us.
As a Kingdom business we are light in the dark world.  We operate on Biblical principles, which are totally different than the world's ways.  We love, forgive and give grace and mercy even when it is not deserved; while at the same time, hold ourselves and others accountable to standards and values, which bring Honor and Glory to the Lord. We are responsible and faithful stewards over ALL the resources God has given us.  We do all of this so that when the day comes and we meet our Savior, we hear him say, "Well done, good and faithful servant."
Glenn is being featured in our Kingdom Business Webinar on December 2 at 6:00pm PST / 9:00pm EST. Click here to register and here directly from Glenn about building a Kingdom Business.
[divide style="3″]
Portland Business Plan Competition
Portland will be hosting a Business Competition on Tuesday, November 25th. Click here to register.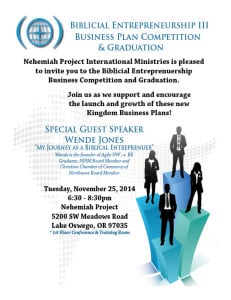 [divide style="3″]
Support Nehemiah through Amazon Smile
How can you use Cyper Monday (December 1)  to save money and be able to support NPIM?  Well, if you ever shop online with Amazon you can now support Nehemiah Project while finding all those trinkets for under the tree. 

When you shop at 
smile.amazon.com
, you'll find the exact same low prices, vast selection and  as Amazon.com,
convenient shopping experience with the added bonus that Amazon will donate a portion of the purchase price to Nehemiah Project. Simply select "Nehemiah Project International Ministry" (location listed as Clackamas, Oregon) as your organization and then use
smile.amazon.com
  when you shop.  You can find more details on how the program works by 
clicking here.

We appreciate your support and we could not do what we do without our generous donors!
[divide style="3″]
Prayer Points and Praise of the Week
"Do not be anxious about anything, but in everything, by prayer and petition, with thanksgiving, present your requests to God." —  Philippians 4:6 
"Give praise to the LORD, proclaim his name; make known among the nations what he has done." — Psalm 105:1
With the holiday season approaching we would like to take the time to offer thanksgiving to our partners, board and alumni. We pray that:
God's favor will be upon your plans for 2015

 

Health & Prosperity for you, your family and business associates
Enhanced relationship with your family
And increased intimacy with Lord
Thank you so much for your prayers. We know that we serve a God who delights to answer our prayers.  If you have specific prayer request that you would like for us to agree with you on or a praise report please send it to prayer@nehemiahproject.org.   Our staff comes together for prayer every Monday and we delight to pray for you.