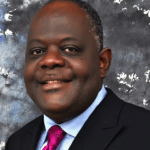 Our newest country partner, Roland Adade of Accra, Ghana held the first Biblical Entrepreneurship I: Principles of Biblical Entrepreneurship November 20 and 21.  Kenya partner Jean Paul Ndagijimana and Roland Adade co-taught this course and looking forward to Biblical Entrepreneurship II in first quarter 2015.
Roland Adade is a sales and marketing professional and an Associate Pastor with the Charismatic Evangelistic Ministry in Accra.  Roland holds a Masters degree in Marketing awarded by the University of Central England (now Birmingham City University, United Kingdom) and a Post Graduate Diploma and Certificate in Marketing awarded by the Chartered Institute of Marketing -UK, having taken his first degree in Humanities with the University of Ghana, Legon.
Roland currently consults for the US Foreign Commercial Service, US Embassy, Accra (US Department of Commerce) where he carries out Partner Searches, Market Research and Due Diligence for several top US companies that are interested in doing business in Ghana. He also is an associate consultant for PriceWater House and Coopers Ghana and has been supporting their recruitment drive for Sales and Marketing positions since 2002.
Using his country license, Roland, along with his wife for 22 years, formed Nehemiah Entrepreneurship Business Institute Ghana (NEBIG) www.nebig.org, a non-profit organization with headquarters in Accra, Ghana.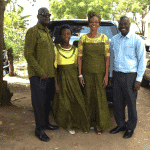 NEBIG's mission is to transform the marketplace of Ghana and the rest of West Africa through the word of God and to impact entrepreneurs and teach them to be guided by the Holy Spirit, so they will be good stewards.
Roland's dream is to establish a very successful business that will bring about change in Ghana.  Below is an edited copy of the status report Roland sent us.
BE Ghana launched with 15 participants, with one participant flying in from Nigeria.  When asked how he got to know about the training in Accra, he mentioned that he subscribes to Patrice's weekly devotions and saw the announcement.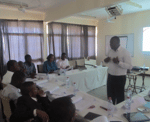 It was evident that the participants were grasping the BE concepts and principles by their responses and answers to questions.  The solutions they arrived at through group presentations and discussions with their colleagues, demonstrated they were really learning new ways of dramatically uplifting their success in running their businesses in a way that will glorify God.
The methodology used was practical, interactive and structured – really getting to the heart of how participants should learn to do business in God's way.  The training as a whole was very interactive, dynamic and motivational and was structured to bring behavioral and attitudinal change in participants.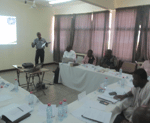 All participants rated the course very highly.  They specified that the course had enhanced their relationship with God, their family and above all, enhanced their business knowledge.  Their desire is that, more people will benefit from the course.

Out the 15 participants 8 have existing businesses and 7 are start ups.  One of the participants, who had quit his job in the beginning of the year, has just bought a plot of land and equipment to produce sancrete blocks for the housing industry in Accra.
The next BE1 training will be on 22 & 23 January 2015 in Accra.
Roland's plans are to be trained to teach BE11 & BE 111 and to have 3 people certified to teach BE 1 in Ghana by July 2015.
[divide style="3″]
BE Global
Uganda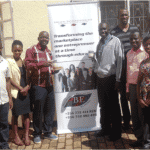 BE I Class held on November 21 – 22 in the KAPS Offices in Kampala, Uganda.  Certified Teacher, Joab Sonko led eight students through BE I.
" I indeed was challenged to the next level of understanding the market place the Biblical way. I was challenged to re-read the book of Nehemiah and the story of Joseph for a wider and depth understanding, all this inspiration was got from your BE class. The BE vocabulary was an added thing in my life, it brought out a Biblical perspective of the things we meet in the market place every day." ~Isaac
"I was indeed privileged to attend BE1. It was a great eye opener to a much deeper insight into kingdom entrepreneurship. The units were great. I believe it was timely given that I have been burning with a desire to access material that teaches a core biblical perspective to wealth creation and stewardship." ~Pastor Ben Kimbowa
Canada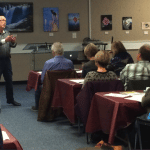 BE I Canada inaugural class was held at Lighthouse to All Nations Church, http://www.lighthousetoallnations.com, November 20 – 22.  Country Licensee Ray Jelinski and Pastor Eric Bahme co-taught the class to 38 students.
"This class took down some of the walls that were stopping me from starting a business."
"Solidified and clarified ideas as related to God's ways that challenged me on some values that need to become convictions!"