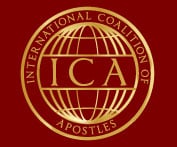 Patrice Tsague and John Abercrombie will present "Mission to the Marketplace" at the 2012 International Coalition of Apostles (ICA) conference November 14 and 15. The gathering is being held in Grapevine, Texas and will include participants from over 30 nations.
"Mission to the Marketplace" will provide attendees with a strategy and tools to give the people they serve access to the marketplace and share the stories of people who have successfully accessed the marketplace.
The mission of the ICA is to connect apostles' wisdom and resources in order that each member can function more strategically, combine their efforts globally, and effectively accelerate the advancement of the Kingdom of God into every sphere of society.
ICA Web site: www.coalitionofapostles.com