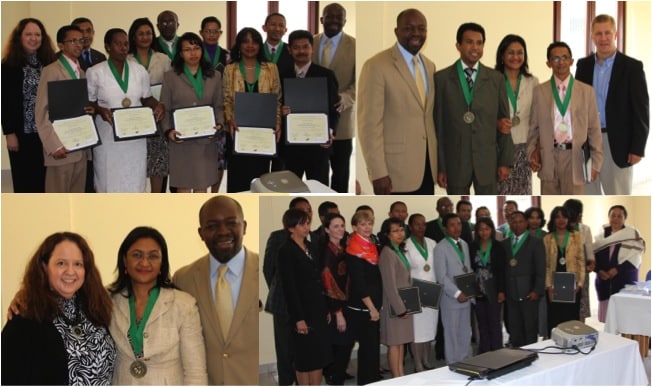 Over the period of one year 150 students went through BE I, 55 students went through BE II, and 22 students went through BE III. A total of 16 students completed their Kingdom Operational Business Plans, and Malanto Rabary, founder of the newly formed First Christian Credit Union of Madagascar was selected as the 1st Place winner of the business plan competition!
Malanto will represent Madagascar at the BE International Business plan competition on September 20th during Nehemiah Week.  She will compete with 8 other presenters: one from Canada, two from Eastern Europe and five from the United States. Malanto's vision is to launch her Credit Union by 2014.  We invite you to join us at Nehemiah Week to meet Malanto and other Biblical Entrepreneurs who will be competing in the 2012 International Business Plan Competition.
Also among the businesses that were launched or expanded as a result of the BE program in Madagascar were: Eco-Tourism, a printing company, a poultry business, a fish farm, a computer manufacturer, a cell phone accessories business, a conference center, a vegetable extract business, and many more.
These businesses will contribute to the development and transformation of their country through:
         Job creation
         Income generation
         Tithe and philanthropy
         Dignity
         Inspiring Hope
         Service
         Raising up new leaders
         Discipleship and evangelism
         Meeting local market needs
Special thanks to First Presbyterian Church of Orlando for their commitment towards sustainable mission in Madagascar.  For more information about BE Madagascar visit www.beorlando.com.
To learn more about Biblical Entrepreneurship program in Orlando please visit www.beorlando.com.