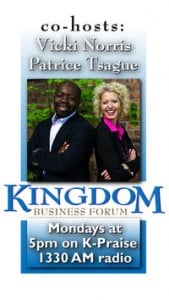 Kingdom Business Forum is on Facebook! Now you can view weekly show information, meet our guests, connect with the Christian business community and much more.  The show is co-hosted by Vicki Norris, President of Restoring Order, a professional organizing company and BE Alumni.  The show is part of a new series of broadcasts called "Kingdom Impact University," which is sponsored by Serving Our Neighbors (SON), a local Oregon coalition of church, business & community leaders.   The mission of the Kingdom Business Forum is to advance the Kingdom through business and to equip professionals to activate the Kingdom through their own platforms of influence.
We invite you to browse through our show archive and listen to past shows.
SHOW ARCHIVES
[audio:KBFJune7JAutry.mp3] James Autry, Show Sponsor and founder of Serving Our Neighbors.
[audio:KBFJune14CharlyKenKenyon.mp3]   Charly & Ken Kenyon, former Executive Director of the Christian Chamber of Commerce of the Northwest (CCCN).
[audio:KBFJune21CharlyKenJAutry.mp3]  Charly & Ken Kenyon, the passing of the mantle to new CCCN Executive Director,  James Autry.