After completing Phase I of the Nehemiah Sustainable Mission Trip to Madagascar with Carol Hafer of First Presbyterian Church of Orlando, I boarded Kenya Airways for Nairobi, Kenya where I joined Jean Paul Ndagijimana for Phase II of the trip which also included visits to Rwanda and Burundi. 
Kenya's national airline slogan is "The Pride of Africa" and it truly lives up to that name.  It is also referred to as the "Gateway of Africa."  Kenya has one of the highest literacy rates on the African continent, one of the best airlines in Africa, a leading high tech industry and a maturing democracy.  For these reasons, and many more, we are proud to announce that it is becoming a hub for the expansion of Nehemiah Biblical Entrepreneurship throughout Africa.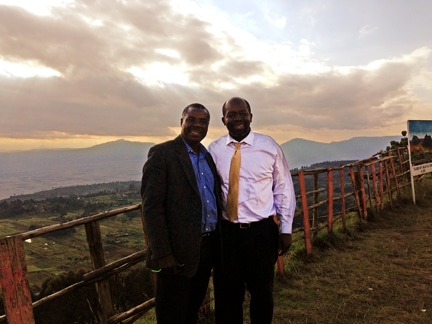 Jean Paul, a former KPMG executive, now serves as the Kenya Director for World Relief and the founder and CEO of Lift Up Africa.  He was first introduced to Biblical Entrepreneurship (BE) in 2012 by Patrick Kuwana of Crossover Transformation (our partner who leads Biblical Entrepreneurship in South Africa).  After agreeing to sponsor one of his colleagues from KPMG to fly to South Africa to take the BE course, the colleague came back and shared with Jean Paul how much it impacted her.  Jean Paul was impressed by its transformational potential for the Kenyan economy, and sponsored an entire class in Kenya inviting Patrick to teach and help to co-sponsor the class with him.  After experiencing BE himself, Jean Paul became convinced that there needed to be a permanent presence of BE in Kenya.   After a failed attempt to convince Patrick Kuwana to relocate his BE operations from South Africa to Kenya, Jean Paul decided to reach out to Nehemiah Project directly to become a BE Certified teacher and to acquire a country license of his own.
Using his country license, Jean Paul, along with his wife, formed Lift Up Africa, a for-profit corporation with headquarters in Kenya.  Lift Up Africa's mission is to transform the marketplace of Africa by building an army of Biblical Entrepreneurs who are building businesses that honor Christ by meeting local needs, fighting corruption, providing livable wages and financially contributing to the advancement of the Gospel throughout the continent of Africa.  His vision is to create a movement of entrepreneurs who want to be led by Jesus, lead like Jesus and lead others to Jesus.  This trip was Lift Up Africa's official launch in partnership with World Relief Kenya. 
The trip began with a visit to Burundi where we conducted a Nehemiah Kingdom Business Seminar with 30 young entrepreneurs in their 30's.  This group began to gather together a couple of weeks earlier to discuss ways to enhance their businesses while impacting their country for the glory of God. Moved by this seminar, they sent three of their members to Kenya to attend the BE I and Teacher Certification class so they could acquire a country license and bring the BE program to Burundi.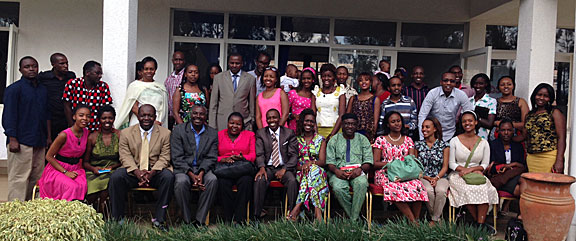 After Burundi, we flew to Rwanda, a country that was reborn after the Genocide that is becoming a model in Africa but still lacks a culture of entrepreneurship.  While in Rwanda I preached a Sunday service and conducted another Nehemiah Kingdom Business Seminar for over 30 entrepreneurs who also sent a representative to Kenya to get certified for BE.  This group also acquired a country license to launch the BE program in Rwanda.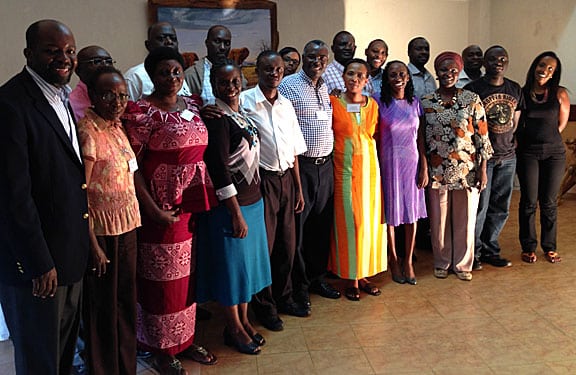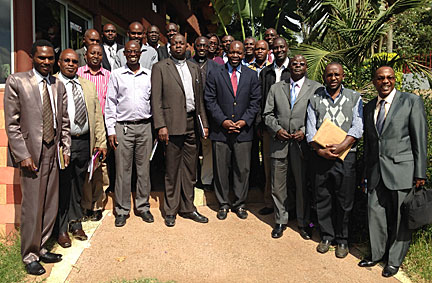 After Rwanda we returned to Kenya to begin the training.  We trained 21 entrepreneurs in BE I, conducted a pastor's luncheon with 25 pastors, a Nehemiah Kingdom Business Seminar with close to 100 entrepreneurs, and certified 18 new BE teachers.  These teachers represented five different African countries including Uganda, Ghana, Rwanda, Burundi and Kenya.  The trip concluded with teaching two Sunday services at the Good Shepherd African Gospel Church with a message on a kairos moment.  This was truly a kairos moment in Africa. 
As one of the leading countries of development in Africa, and due to Kenya's strategic geographic location and economic position, this trip enabled us to mobilize five countries and inspired a vision to use Kenya as a hub to cultivate the spirit of entrepreneurship and sustainable development throughout Africa.  We move with a common goal in mind: to move Africa from a being donor-dependent nation to becoming a donor nation. This strategic hub will enable us to cultivate collaboration among our various partners throughout the continent of Africa, distribute Biblical Entrepreneurship education throughout Africa, encourage investments in Africa and create a framework to facilitate trade within Africa.  With this in mind, our prayer is to sponsor an Annual Nehemiah Week East Africa conference starting in June of 2015 to serve as the catalyst for economic and spiritual revival for the continent of Africa.

Nehemiah Project will be returning to Kenya December 7th to the 14th to conduct BE II – the Practices of Biblical Entrepreneurship and BE III – Planning a Kingdom Business.  The trip will also ensure that the new certified teachers are able to instruct the entire Biblical Entrepreneurship Certificate program with excellence.  This trip was funded by the generosity of Elevation Financial Group, the members of our Founders Club, and our charitable investors. 
For more information about the BE program in Kenya, contact Jean Paul at jndagijimana@liftuplimited.com.  
Our next sustainable mission trip will be July 14th to 21st to the country of Haiti for the launch of the Biblical Entrepreneurship Program, so stay tuned!  To inquire about our next sustainable mission trip or to become a Nehemiah Project Charitable Investor, please contact Katie Kavehrad at katie@nehemiahproject.org.