Biblical Entrepreneurship Expands in Mexico
I arrived in Mexico on Monday, May 27, by the invitation of Casa La Roca, the largest independent evangelical organization in Mexico, which functions much like a church. Five years ago Dr. John Mulford of the Regent Center of Entrepreneurship introduced them to Biblical Entrepreneurship.  After launching Biblical Entrepreneurship in Mexico, the church founded Imaginarium, a business incubator.  Although there was a period of inactivity because of the loss of the incubator's leader, they have been recognized by their government as one of the leading incubators in the country. In fact, they actually receive some of their funding from the government of Mexico.  


Two years ago Biblical Entrepreneurship alumni Rene Vila and his wife, Loreta, assumed leadership of the incubator as volunteers.  Due to the impact that Biblical Entrepreneurship had on their lives, they invested their own money to re-launch the Incubator and revive the Biblical Entrepreneurship program. Over five years ago, Rene and his wife were bankrupt.  After taking the Biblical Entrepreneurship class in 2009, they re-launched their business and it now generates over $400,000 a year.  The Vila's company,  Behemoth, is a diversified holding company that includes a consulting division, import and export division, and investments division that operates in Mexico with a vision to expand to the United States.   He named the company Behemoth after a passage in Job.   While suffering through their bankruptcy he was reading a devotional on Job 40:15-28.  He was praying that God would restore his company, but instead God revealed to him a different path.  From this passage he realized that business can be done God's way, God is the ultimate creator of business and He will bring in the business.  He also learned to not be afraid of change and to allow the Lord to take care of things.  Finally, he learned to partner with people and other businesses who have the same vision from God.
Rene and his wife are also incubating several businesses and have invested over $700,000 in various businesses and projects throughout Mexico and the United States.  Along with running their own company and investing in several other businesses, the Vilas lead a small group in their home, serve as volunteer leaders for the Incubator and the business ministry over the business sphere of their local church.  Their church is organized based on the Seven Mountains of Influence with a leader over each area of influence.    The Incubator has assisted 260 small businesses through training, consulting and Biblical Entrepreneurship.  
During my visit to Mexico Rene and his team organized a breakfast meeting with 40 pastors where I taught on the value of entrepreneurship education as a part of the church discipleship and outreach strategy. It was extremely well received and many of the pastors will be partnering with Biblical Entrepreneurship.  We also conducted a Nehemiah Teacher Certification training for 13 newly certified entrepreneurship teachers who will work with Rene to expand Biblical Entrepreneurship and other Nehemiah Entrepreneurship training programs throughout Mexico.  They also organized an entrepreneurship conference with close to 300 people in attendance.  I taught on the subject "Nothing But a Jar of Oil,"  which is using what you have to build a profitable Kingdom Business. I also held a question and answer session to help participants address various business issues.  The conference was attended by Biblical Entrepreneurship alumni, other Christian business owners and many individuals who desire to start and operate their own businesses.  There were also a few American missionaries in attendance.   Participants left the conference inspired and equipped to grow kingdom businesses and impact their country.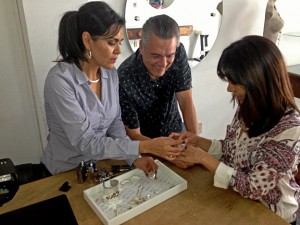 The trip concluded with Rene, his team and I conducting an all day coaching session with TEGO, a mid- to-high-end silver jewelry manufacturing company owned by two Biblical Entrepreneur sisters who, due to various personal and market issues, are facing business challenges.  We devised a plan to help them stabilize their company and expand it beyond Mexico using the Nehemiah partner network within the U.S. and around the world.  We will be providing more details on this soon.
Under the leadership of Rene, Imaginarium's vision is to expand Biblical Entrepreneurship throughout Mexico and Latin America.  They also want to introduce The Biblical Apprentice, Purpose and Profitability, the Nehemiah Enterprise Business Coaching and the Couples in Business initiatives in the next two years.

Rene said he believes that BE and Nehemiah are influencing the region by teaching biblical values and principles to do better business and help more people in Latin America to live better lives
Thank you to our Sponsors:
This trip was made possible, in part, because of the support of our various charitable investors. Thank you for enabling us to transform the marketplace in emerging markets like Mexico and developing nations like Madagascar.  If you would like to make a contribution to support these efforts through our scholarship fund
click here
.  Thanks to 
Elevation Financial Group
there is currently an opportunity to match any gift, up to $20,000 with an additional $10,000, we receive towards our international work.  This will enable us to continue to support the current work as well as expand the Biblical Entrepreneurship program into Haiti.  We will be conducting a site visit in Haiti in August of this year to determine the implementation schedule.  This trip is also funded by
Elevation Financial Group
.  If you would like to partner with us to bring the any of the Nehemiah Entrepreneurship training programs into other countries please 
click here
for more information about our International license program.
The State of Small Business in Mexico:
In the past 20 years Mexico has emerged as a global economy fueled by small business by signing numerous free trade agreements, global investment in autos, aerospace and household goods and the younger generation launching tech start-up companies.  Last month Mexican president Enrique Peña Nieto announced a plan to help grant small businesses easier access to credit and reform banking in an effort to provide growth, create jobs and curb illegal immigration to the U.S.  The government of Mexico is working to provide additional support to these small businesses.

Most workers in Mexico are employed at small to medium sized businesses (called PYMEs or pequeña y mediana empresa in Spanish.) PYMEs provide 71 percent of formal employment and about 50 percent of the GDP.  There are close to 4 million PYMEs that play an important role in exports and growth.
Sources:
[divide]