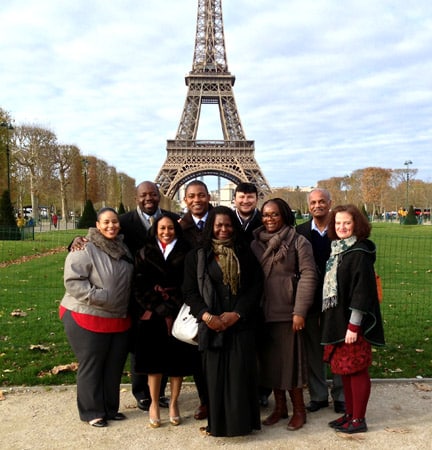 We are excited to report that the launch of Biblical Entrepreneurship in Paris last week was a huge success!  We worked with seven individuals, including four from France and a couple from Belgium, who are preparing to become teachers of the BE program to expand it throughout France and Western Europe in 2014. We also were joined by an attendee from Australia who traveled for 24 hours to join us because of his desire to launch BE in Australia in 2014.
In addition to BE I, we also conducted a two hours Biblical Stewardship seminar for 100 people, a leadership seminar for 20 local church leaders and I was able to preach during the Sunday worship service (click here for the video.)  Joining me to help teach were Melodie Cochran, a BE Certified Teacher from California, and Svetlozar Nikolov our BE partner from Bulgaria.  Lord willing, we plan to return to Paris in April for BE II.  In the meantime Pastor Gabriel Oleko will be training at least 10 other entrepreneurs who will join us for the next session.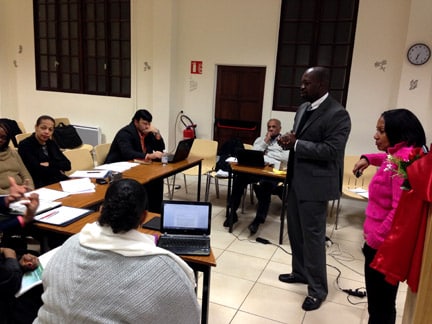 In a culture that inspires a separation of faith and work as well as dependency on the government the principles of BE I were revolutionary for the participants.  They were inspired to allow God to use them to be witnesses for Him in the marketplace, become job creators in their countries and givers to the work of God in Europe.
Also we would like to say thank you to our generous donors for your faithfulness to Nehemiah Project International Ministries!  Your contributions to our scholarship fund helped make this program possible and the fruit will continue to produce in France, Western Europe and around the globe for many years to come.  If you would like to help contribute to expanding BE around the world, consider making a year-end gift to our Global Marketplace Mission Campaign before January 31 or contact Katie Reinmuth at 877-916-1180 ext. 106 for more giving opportunities.