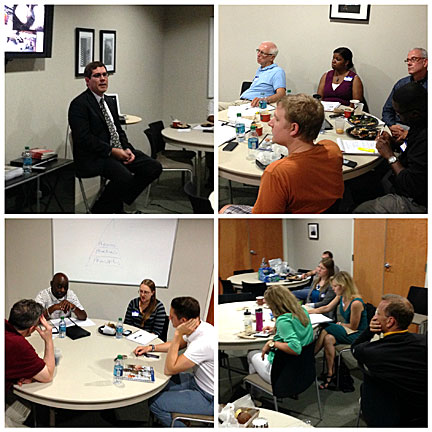 Biblical Entrepreneurship blew into the Windy City last week and our first class was a huge success!
This class was championed by Rick Voit, Private Wealth Advisor at Merrill Lynch Wealth Management, friend of the ministry, charitable investor and coaching client of Kingdom Business Coaching. Rick not only financed a large part of the class, but also hosted several conversations around this launch in partnership with NPIM. Thank you, Rick!
The class of 14 students was taught by BE teachers Eric Bahme and Patrice Tsague and was held at Park Community Church which has a reputation for being entrepreneurial in spirit. Student evaluations provided positive feedback. When surveyed, 91 percent of respondents "strongly agreed" that as a result of the class they felt better prepared to start or enhance their business.
Special thanks to Mike Rolfes, the Director of Renew Chicago at Park Community Church for working with us to host the class and to Chris Campbell of WhiteStone Global Partners LLC who helped to sponsor the class and drive attendance.
The next step for the development of BE Chicago will be future discussions led by Rick and Mike with Park Community Church about how to integrate Biblical Entrepreneurship in the church.
For more information on BE Chicago and how to get involved, please contact Debra Schlaht at debra@nehemiahproject.org