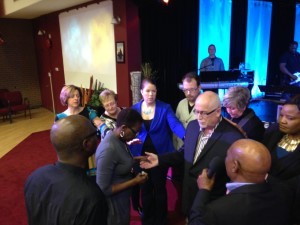 On the weekend of Friday November 7th through Sunday November 9, 2014, I was privileged to be the keynote speaker at the launch of Biblical Entrepreneurship in Regina, Saskatchewan, Canada, at the commissioning of Ray Jelinski.
The launch was held at the Lighthouse To All Nations, a local church in Regina, Saskatchewan Canada, Pastored by Femi and Remi Ogunrinde.  About 50 people gathered live, and many others through live stream for the conference kick off of Biblical Entrepreneurship including the leadership of the Church.  The success of this launch has resulted in 25 registered attendees for the first BE class in Canada!  This class will take place on November 20th to 22nd and will be taught by Pastor Eric Bahme and Ray Jelinski.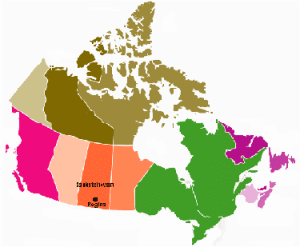 Though the program is being launched in Regina, Ray's vision is to expand Biblical Entrepreneurship through each Canadian Province using a similar business model that we use in the United States.  Regina, historically has been a lackluster city but recently through prayer, church leaders and a God sent leader who fears God, is now experiencing and a God sent a leader who fears God is now experiencing a boom. for more information about this boom watch this video SASKATCHEWAN: CANADA'S BOOMING PROVINCE. It is no accident that Biblical Entrepreneurship is staring and will be headquartered in this city.
How did this start?
It was about four years ago at a conference in Dallas Texas when Ray Jelinski first heard about Biblical Entrepreneurship and determined then, that he wanted to take the class.  Less than three years later, Ray began his Journey as a Biblical Entrepreneurship student through our online campus, without any idea that he would soon be inspired to lead Biblical Entrepreneurship Canada.   He also took some of his classes in Kalispell Montana, including his BE Teacher Certification.  After much prayer and council with his wife Karen he was led to purchase a BE License for Canada and launch BE Canada.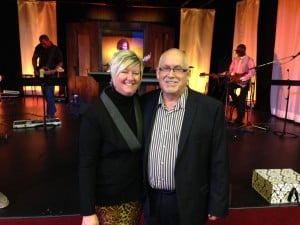 Who is Ray Jelinski? 
Ray Jelinski is the CEO of a new business called the 3 Keys Services.  He is a diligent student of the Word, and an apostolic teacher with the grace of God upon his life in the area of biblical entrepreneurship and finance.  His desire is to see the body of Christ in Canada and beyond equipped and trained to function in her true identity in the area of stewardship, kingdom business and wealth creation. Ray worked in the corporate world for 24 years in the telecommunications industry, before joining the Apostolic team at Lighthouse To All Nations Church, in Regina, Saskatchewan, Canada.  He is Dean of the Royal Commission Training Center (RCTC) which equips students in the 7 Mountains of societal influence.  Rays vision is founded on Psalm 72:8, which is on the parliament building in Ottawa "That he shall have dominion from sea to sea". According to Ray "Our forefather founded our nation on that scripture. My vision for BE is to see entrepreneurs and businesses built upon a biblical foundation and have dominion from sea to sea to sea".   BE Canada is open for Business and poised to take Canada by storm.
How to Support?
To support the BE program in Canada and the expansion of BE throughout the world visit our impact page on our website https://r1-seattle.webserversystems.com/~nehemiah/2014_impact_campaign/.
There is still room for you in our November BE Class!  Click here to register for the upcoming class in Canada https://r1-seattle.webserversystems.com/~nehemiah/class/be-i-regina-saskatschewan/
[divide style="3″]
Congratulations to Team Ukraine & the Success Center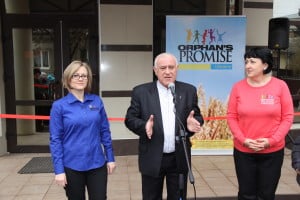 Below is an important announcement from Ivan and the Center for Success.  Ivan is the longest standing Country Licensee.  We thank God for Ivan, Eugene and his team for their faithfulness and diligence to bring the word of God to those they serve.
We also offer our Congratulations!  God has certainly blessed your faithful diligence in spreading His good news. We are so very grateful for the partnership over these years and the opportunity to see the ever-growing outreach into many communities. Your new center and work with youth will be a blessing for multiple generations.
What a privilege to hear of God's gracious Hand on your ministry and efforts.  May He continue to favor the labors of your hands for His glory and honor.
Message from Ivan (translated and unedited):
"November 1, 2014 our Success Center celebrated it's Seventh anniversary from the day when Center was found. This remarkable date was coincided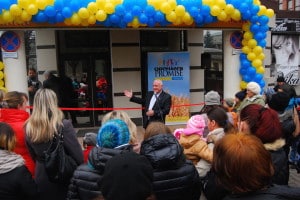 with another great news with the purchase of an office facility for the Center. Now kids will be training more effectively in large classrooms and workers of the Center will be able to have more space for work and ministry.
For this holiday we invited children, teenagers and their parents that are attending the Center for training on the regular bases as well as volunteers and employees of the Center.
During the opening of the Center there was a ceremonial ribbon cutting and a children's concert. Director of the Center Success spoke with a welcoming word. The workers of the Center presented the work of the Center of school year of 2013-2014, gave certificates, appreciations and rewards.
During the opening of the Center we had honorable guests representing Orphans Promise from USA and Kiyv.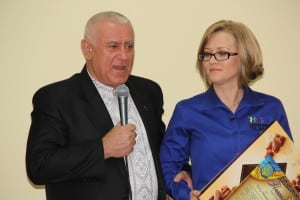 We would like to say a special thanks to a Director of "Orphans Promise" International Organization and its president Terry Meeuwsen. During many years they were organizing the fundraising for purchasing of the office facility for the Center. We would like to thank all of the sponsors and charitable givers for their support of this nobble matter.
Please accept our great appreciation and thanks for the priceless encouragement, care, and assistance that you granting us.  We highly esteem your contribution to ministry to orphans and children at risk in our city and country.
Thanks to you we are able to successfully to carry out projects to prepare young people for life on their own, to cultivate Christian morals in them, and help them become well-rounded individuals.
On this holiday we would like to wish you in exhaustible creativity, fulfillment of all your beginnings and plans, success, health, joy, happiness, and God's abundant blessings!"
We truly think that together we can bring up successful generation for the glory of our Lord Jesus Christ."
Sincerely
The team of Success Center.
[divide style="3″]
Support Nehemiah through Amazon Smile
"City sidewalks, busy sidewalks
Dressed in holiday style
In the air there's a feeling of Christmas
Children laughing, people passing
Meeting smile after smile
And on every street corner you hear… 
"How am I ever going to get it all done!"
Christmas is fast approaching and if you are anything like our staff, you are wondering how you are going to fulfill that "Christmas List" and still be able to support my favorite organizations. Well, if you ever shop online with Amazon you can now support Nehemiah Project while finding little Suzy that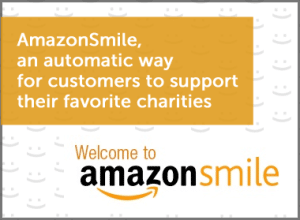 Frozen DVD!
When you shop at 
smile.amazon.com
, you'll find the exact same low prices, vast selection and convenient shopping experience as Amazon.com, with the added bonus that Amazon will donate a portion of the purchase price to Nehemiah Project. Simply select "Nehemiah Project International Ministry" (location listed as Clackamas, Oregon) as your organization and then use 
smile.amazon.com
 when you shop.  You can find more details on how the program works by 
clicking here
.
We appreciate your support and we could not do what we do without our generous donors!
[divide style="3″]
Prayer Points and Praise of the Week
"Do not be anxious about anything, but in everything, by prayer and petition, with thanksgiving, present your requests to God." —  Philippians 4:6 
"Give praise to the LORD, proclaim his name; make known among the nations what he has done." — Psalm 105:1
We ask that you take your time this week to pray for us and for the key areas below:
Manitra & Naddy Rakotoarivelo – Manitra and Naddy will be traveling from Madagascar to Kenya for Naddy's next round of radiation treatment. Please pray that her cancer will be eradicated.
Ty & Trish Dye – Ty and Trish would like to extend their thanks for all the prayers and support for their granddaughter Laylah. Her surgery was very successful and they are believing for a speedy recovery.
Thank you so much for your prayers. We know that we serve a God who delights to answer our prayers.  If you have specific prayer request that you would like for us to agree with you on or a praise report please send it to prayer@nehemiahproject.org.   Our staff comes together for prayer every Monday and we delight to pray for you.