The Biblical Apprentice Youth Leadership Program was held on October 4th at Calvary Assembly Church in Winter Park, FL. Biblical Apprentice is a youth entrepreneurship program that prepares local teens, ages 11 –18, for real world business challenges by teaching them the value of teamwork, biblical ethics and taking an idea from conception to the development of a profit-making Kingdom Business – God's way.
This year's theme was "How to Be About the Father's Business". More than 43 students in eight table groups learned that God is vitally involved in their personal life, family, school, and careers. Led by Glenn Repple, NPIM Area Developer and fifteen coaches, students experienced the value of God's economy through the Trade Game before working in table groups to develop a viable business plan. Students then presented their plan in front of three judges to win prize money.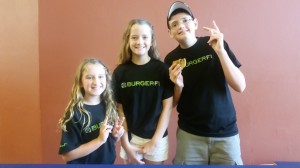 1st Place, $500:     Bully Free Society led by Clifton and Catherine Blase
2nd Place, $250:   Kingdom Coaching led by Bruce Woodard
3rd Place, $125:    Block That Drop led by Doni Keene
Our lunch sponsor and guest speaker was Eric Koeser of Burgerfi. Eric shared his moving testimony of being a troubled teenager to becoming a National Honor Society student and star athlete all without an identity in Christ. When he lost his scholarship due to a sports injury, Eric felt lost and without hope. It wasn't until Eric was introduced to Christ by his wife that he realized what he was created to become something more. After experiencing a business loss of millions of dollars, God led him to Burgerfi and business conducted His way. Thank you Eric for sharing your story and Burgerfi team for contributing your time and resources.And, if the day could not be any better – one student committed her life to Jesus during the event!
Here's what the coaches had to say —
"Thank you again for an AMAZING day. What an honor and privilege to participate, and pour into these kids. I know with all my heart that there was a celebration taken place in the Kingdom yesterday. Rejoicing as they watched Tanya be lead to Christ. She one the grand prize of the day. May the King of Kings, The Lord of Lords and the Creator of all Things receive the praise and glory for all that transpired in yesterdays event. Thank you All!  U-All-Made-A-Difference!!"~Cliff & Catherine Blase 
To God be the glory… 
The power when we, His kids work as one as He and The Father are one.  Let's take this to the nations…Team work makes the dream work…May God bless you, Paul Benjamin Sr.
We would like to extend a special thanks to our corporate sponsors who help to underwrite the event:
BSi-Acts 
Cahill Homes 
Elevation Financial 
First Presbyterian Church of Orlando 
GA Repple Company 
The Timothy Plan
For more information about Biblical Apprentice, contact Ty Dye atty@nehemiahproject.org.
Make sure to check out our Biblical Apprentice Facebook page for more pictures from the event.
[divide]
Carol was born in Germany and is the second of four children. Although traveling a lot with military parents, she spent her youth growing up in Mulberry, TN. After receiving her BSBA (Management/Office Systems) from the University of Tennessee Knoxville, she moved to Atlanta to begin her career. Undecided on a career choice, she elected to pursue a military career. After the military, she moved to Seattle and accepted a position as a Business Analyst in the financial services industry. It was during this time that she took the opportunity to receive formal training as a private airline pilot. After about 10 years in Seattle, she relocated with her daughter (Serena) to Boston to take a position as a Director in a financial software company. In 2003, Carol decided to pursue her own business – Carol's Lighting & Supply Company. Although she is currently working in the financial industry as a senior business analyst, the lighting business continues to provide energy efficient lighting and consulting services to property managers, government agencies and municipalities on a part time basis. Carol currently lives in Smithfield, RI with her daughter, Serena.
We asked Carol to answer a few questions for us.
1. How did Biblical Entrepreneurship impact your understanding of God's plan for business?
As a servant in God's house, I am called to serve. I am also called to the Business Mountain and in light of this, I became more keenly aware of my role to build God's kingdom by my actions. Not only in what I say, but also in what I do in all areas in my life. Specifically, in what can I do or say to help someone else be successful. As I serve consumers, I am conscious of what I say to them in providing them solutions in their dark places. I also do my part in thinking before I speak to my co-workers to see how I can I effectively build His kingdom by being a team player to effectively complete our projects. In my personally opinion, it's all about the service and being a team player. I just see it with a new "deeper" set of eyes. BE has brought me more into alignment of how I should do business.
2. Why do you support Nehemiah Project?
I am so excited about Nehemiah Project. Foundationally, it is solid. I wish it were something that was around when I was much younger. I recall when I took the first BE I class a few years ago. My business was already established, but I wanted to know more and I knew there was more. I was hungry! To date after finishing all 3 BE classes, going to conferences and serving in other ministries, I have experienced much favor from the principles that I have applied. I have also seen the differences between those businesses that are Kingdom businesses and those that are not. Also, for me, BE Apprentice is an exciting area. It is so rewarding to see youth at work. They are the future! I have had the pleasure organizing and facilitating the BE Apprentice in Providence and participate as a coach in Orlando and seeing these future leaders work first hand has been awe-inspiring. I honor and support the team for all the hard work that they do at Nehemiah Project. Without them taking the time and the patience to communicate with me, I would not have grown. Particularly, Debra's diligence with BE Apprentice! I support Nehemiah Project because I have experienced what it has done for me and I know it works.
3. What does it mean to you to operate a Kingdom business?
I think it is rewarding and fun. I find that consumers and people in general are drawn to Kingdom businesses without you having to "work" at it. If you do your part, God will do the rest. You have to follow the principles. It isn't easy and there are obstacles that you will face but you with faith you can overcome them. Operating a Kingdom Business is exciting and I like to meet like-minded people. I think having operated a business prior to BE has allowed me to see the differences between now and then. Previously, I was nervous and anxious at times. Now, in spite of the obstacles that are in front of me – I'm not as stressed. I believe it is applying the BE principles that has helped keep me moving forward in business.
Please help us extend congratulations to Carol Ford as Nehemiah Projects' October Alumna of the month.
Do you know someone who has taken the principles they have learned through Biblical Entrepreneurship and has had success in applying them to their business life? Let one of our staff know so we can consider highlighting them in an upcoming issue.