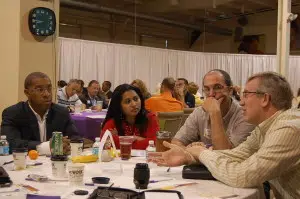 At Work on Purpose (AWOP) of Mason and Blue Ash, the nation's largest, city-wide marketplace ministry and Cincinnati Christian University have partnered with Nehemiah Project to offer Biblical Entrepreneurship I on June 4 – 6 at Cincinnati Christian University.
Course instructors include Ty Dye of Second Level Solutions, Inc. in Portland, Ore.; Tom Lunney of American Small Business Centers in Cincinnati; and Steve French of Harvest Money in Cincinnati.
"Sometimes running a small business feels like you are a trapeze artist performing without a net: one slip and you will get hurt," said Chuck Proudfit, AWOP founder and president. "This course offers a safety net. It will help entrepreneurs of all Christian faith denominations learn how to accept risk and face business challenges knowing that they are doing the right things both biblically and from a general business perspective."
Registration is $495. Classes will be held Thursday and Friday, June 4 and 5 from 6 p.m. to 10 p.m., and Saturday, June 6 from 9 a.m. to 5 p.m.
For more information or to register, go to http://bit.ly/1bqzRDP or call Tom Lunney at (513) 805-5504.