Our team and partners are celebrating the success of Nehemiah Project's second ever Young Biblical Entrepreneur camp, hosted by First Presbyterian Church of Orlando this July. These enthusiastic, smart, innovative students were guided through an intense five-day program where the students developed their own business plans. The camp culminated in a graduation ceremony and "Shark Tank"-like business plan competition complete with cash prizes on Saturday, July 30, at The Hope Church. Mr. Nathan Shaw, Youth Empowerment Project founder and Ms. Jenny Arrison, Director of FOUR12, First Presbyterian Church's after school mentoring and tutoring ministry, worked with a host of YBE leaders from Orlando to teach, coach, and mentor the students throughout the week. We thank God for all of the 22 young entrepreneurs ages 12-18 from the inner city of Orlando, Florida who participated in this event!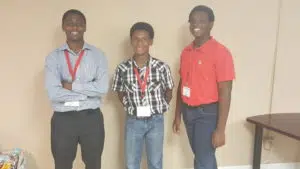 The judges selected Jonathan Wiggins as the 2016 Young Biblical Entrepreneurship Business Plan Competition winner. He will present his business plans September 2016 at Nehemiah Week. Congratulations, Jonathan, we are inspired by your example, along with so many hard-working, incredible YBE students this year!
 The five youth contending business plans this year were The Rivera Family (Kayliegh, Ricky, Brendan & Jessenia), Courtney Battle & Robin Battle, LaDaMeon Perkins, Shelby Williams and Jonathan Wiggins. The competition was held at The Hope Church in the beautiful city of Orlando, FL in the USA.

 About Jonathan Wiggins
Jonathan is a hardworking young man. He takes his education serious and has repeatedly maintained a 4.0 GPA or higher. Additionally, he is a gifted musician. His main instrument is the saxophone where he plays both alto and tenor sax. He also plays drums and over the summer learned to play the piano. Music is a big part of his life as he is a part of marching band, concert and jazz band at his high school and he is a part of the band at his church where he plays for 2 services each Sunday and on Tuesday. Over the summer Jonathan joined his Mother in her Boutique where she makes custom dresses. He saw a desire from his mother's clients who wanted their husband and sons to have bow ties that matched their dresses and other fabric. After that learned to make bow ties to meet that very need. He went with her daily and perfected his design of the pre-tied bow tie and then designed a regular bow tie and necktie. His Mother and family members began sharing the pictures on social Media and Before he knew it bow ties were being ordered by the general public. This is how Bow Tie was birthed.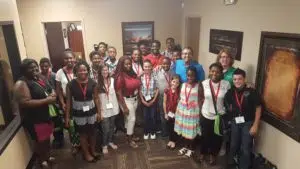 To attend the Young Biblical Entrepreneurship Conference in Orlando Florida Oct 1st 2016 and other Nehemiah Week activities register today for Nehemiah Week 2016. Email elizabeth@nehemiahproject.org for more information on YBE or to find out how to register for the upcoming live or online course.