You're Invited to: The Urban Initiative Impact Reception
This event is in partnership with Hope Church, Four12, YEP, Mercy Drive Ministries, Back To God Ministries, Vision Orlando, The Infuse Project, Faith Center, Lift Orlando, The Experience Church, The Collaborative, The Impact Church, Awaken The Nation, African American Council of Christian Clergy, Love Mission. Sponsored by Cahill Homes, Charles Clayton Construction, CNL, GA Repple & Company, Financial Harvest Wealth Advisors, Kings Services, Hosanna Building Contractor, Andco, Elevation Foundation, BSI, Harvest Wealth Managment, Timothy Plan.
March 14th

 |  

6.30 PM – 8.30 PM
Winter Park Community Center – Oak,
721 West New England Ave., Winter Park, FL, 32789
Free event. RSVP required. To register, please visit http://www.nehemiahproject.org/event/UI-Orlando
For more information, call (407) 808-9025 or
email wendie@nehemiahproject.org
E-Learning Forum Recording Available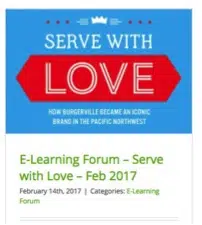 Did you know that one of the benefits of the E-Community is access to quality resources to grow and strengthen your business? One such resource is our first recently released live E-Learning Forum Recording, featuring guest speaker Tom Mears, Chairman of Burgerville. Diamond and Gold members can now access the recording the Resource Center. As well, Silver members who registered and paid for the live webinar, can do likewise.
This invaluable session, held on February 14th dealt with the power of a transformational mission statement.
The E-Learning Forum is a monthly educational webinar featuring guest experts, and Kingdom-class business education to enhance your life and business from a Kingdom perspective. The Forum will be held every second Tuesday of the month, from 6am – 7am Pacific time.
Don't miss the next E-Learning Forum on March 14th, join the E-Community for free if you're a BE alumni, or for as little as $25 per month for non-BE alumni. For more information about the E-Learning Forum, please contact our Director of Operations, Randall Stanford, randy@nehemiahproject.org.
Click here to join the E-Community!
Important Save-the-Date Events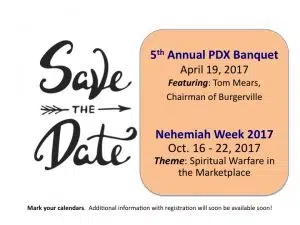 Taking time to celebrate entrepreneurship success, raising support for Biblical Entrepreneurship training, and highlighting the impact of Biblical Entrepreneurship around the world is something we look forward to each year. As we look ahead, we encourage you to mark your calendars for our upcoming events.