The E-Community Learning Forum is a monthly educational webinar featuring guest experts and Kingdom-class business education to enhance your life and business from a Kingdom perspective. The Forum is held every second Tuesday of the month from 6am – 7am Pacific time.
This month's forum features author of the much anticipated, soon to be released book, "Serve with Love." The Burgerville Chairman, Tom Mears, will share how he transformed his company into a Pacific Northwest iconic brand by simply clarifying the company's mission and insisting that everyone live by it. Learn how to develop a transformational mission statement and about the impact it can have on your company's bottom line and the community it serves.
Diamond and Gold members: Free
Silver members: $10
Non-members: $25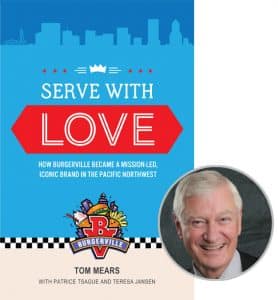 Save the Date:
February 14th, 6 AM – 7 AM PST
Topic: The Power of a Transformational Mission Statement
Diamond members, be on the lookout for your free copy of the e-book as a part of your membership benefit when the book is released!
Click here to register for the upcoming E-Community Learning Forum. For more information about the E-Community Learning Forum, please contact our Director of Operations, Randy Sanford, randy@nehemiahproject.org.
Click here to register for the upcoming E-Community Learning Forum. To become an E-Community member or to upgrade your membership for free enjoyment or at a discounted fee, click here.
Save-the-Date: Sustainable Missions trip to Ukraine 

November 7 – 11, 2017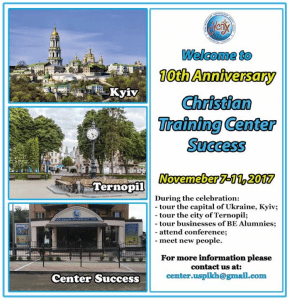 The Nehemiah Sustainable Vision Engagement (SVE) is a short-term, overseas mission opportunity aimed towards a country with an active NPIM partner that operates a Biblical Entrepreneurship program, or simply someone who is interested in launching a program.
The purpose of the trip is to support our program partners in their desire to provide training and support to local entrepreneurs and business who desire to become Kingdom companies.
We encourage you to join us in honoring our first and longest existing international partner on their 10th anniversary!
Click here for more information, or email Debra Schlaht at debra@nehemiahproject.org.
Prayer Requests and Praise
One of our HQ staff had surgery on her back more than a month ago and she is still recovering and fighting an infection. Please pray for a quick recovery!
That the Biblical Entrepreneurship movement could experience growth all over the world.
For safe travels for Patrice back and forth from Orlando.
"Blessed is the man who trusts in the LORD And whose trust is the LORD. "For he will be like a tree planted by the water, That extends its roots by a stream And will not fear when the heat comes; But its leaves will be green, And it will not be anxious in a year of drought Nor cease to yield fruit." Jeremiah 17:7-8
If you have a specific prayer request, let us know! We come together for prayer every Monday and would love to lift you up. Email requests to prayer@nehemiahproject.org.