The Power of a Dashboard in Growing Your Business
Your business is dynamic. At any given moment, customers are buying, employees are working, competitors are moving, suppliers are shipping, and payments are being made. With all this constant activity, it can be a challenge as a business owner to cut through the clutter and focus on what you need to know⎯right now⎯to make the decisions necessary to keep your business growing.
Staying on top of a small business can be overwhelming and stressful. But, failure to focus on the right thing and take action in a timely manner can, in the best case, mean missed opportunities and, in the worst case, lead to disaster. Just like the dashboard in a car tells you what you need to know to drive safely to your destination, a business dashboard provides the up-to-the-moment critical business information you need to guide your organization to success. If properly designed, it can relieve you of the worry that something important is being missed.
In this month's E-Learning Forum, we'll take a deeper look at how business dashboards can help you guide your business, empower employees, and free you from worry. You'll learn:
What a business dashboard is and how can it help you
What critical information you should be monitoring
How you can easily measure and report actionable information in real time
And we'll look in-depth at how one business built and uses their dashboard and what they've achieved as a result.
Date: March 13th, 2018
Time: 6:00 AM to 7:00 AM Pacific Time
Speaker: Dave Blanchard
Topic: The Power of a Dashboard in Growing Your Business
Dave Blanchard has been a marketing professional for 37 years since earning his Masters degree in Engineering Management at Stanford University. During that time, he has held leadership positions in product management, strategic planning, and market research within the tech industry. Since 2007, he has helped over a hundred small businesses succeed through coaching, consulting, project work, or filling the role of part-time outsourced marketing director. His deepest desire is for his business, Cognesis Marketing, to bring glory to God.
The forum is free for Diamond and Gold members but you must register. Register now for the 2018 E-Learning Forum Series to attend this forum and all future forums. You only need to register once and you will be sent the link to the forums every month.
The forum is at a discounted price for Silver members and at the regular price for non-members. The event will also be recorded and available in the Resource Center for Diamond and Gold members as well as Silver members who have purchase it.
The first Biblical Entrepreneurship (BE) Experience was held in Mexico City on Saturday, March 3rd hosted by Nehemiah Project Mexico. The BE Experience is an introduction to Biblical Entrepreneurship through a practical hands-on intensive focused training based on a specific business discipline ranging from marketing and sales, strategic planning, financing a business, to succession and exit. The Experience is offered as a one day live intensive training or a 4-weeks online intensive training.
The March 3rd Experience was led by Nehemiah Project Founder, Patrice Tsague, and Board Vice Chair, Robert Fukui. The training focused on developing a growth strategy, which addressed topics like identifying opportunities for growth, developing a financial forecast for growth, and developing a 12-month growth plan. 21 entrepreneurs attended the training and represented various industries from real estate, professional services, to manufacturing. The business size ranged from small to medium-sized businesses. The training was life-changing, practical, and transformational according to many of the attendees.
Many were inspired to enroll in the upcoming BE Executive Program in Mexico City that will be held on July 2nd and 3rd. The next BE Experience in Mexico City will be held on May 26th. For information about the upcoming BE Experience training in the United States, click here.
For more information about Nehemiah Project Mexico on the training program in Mexico, please contact the Director of Nehemiah Project Mexico, Penelope Bravo at penelope@npmexico.org.mx
Portland Kingdom Impact Dinner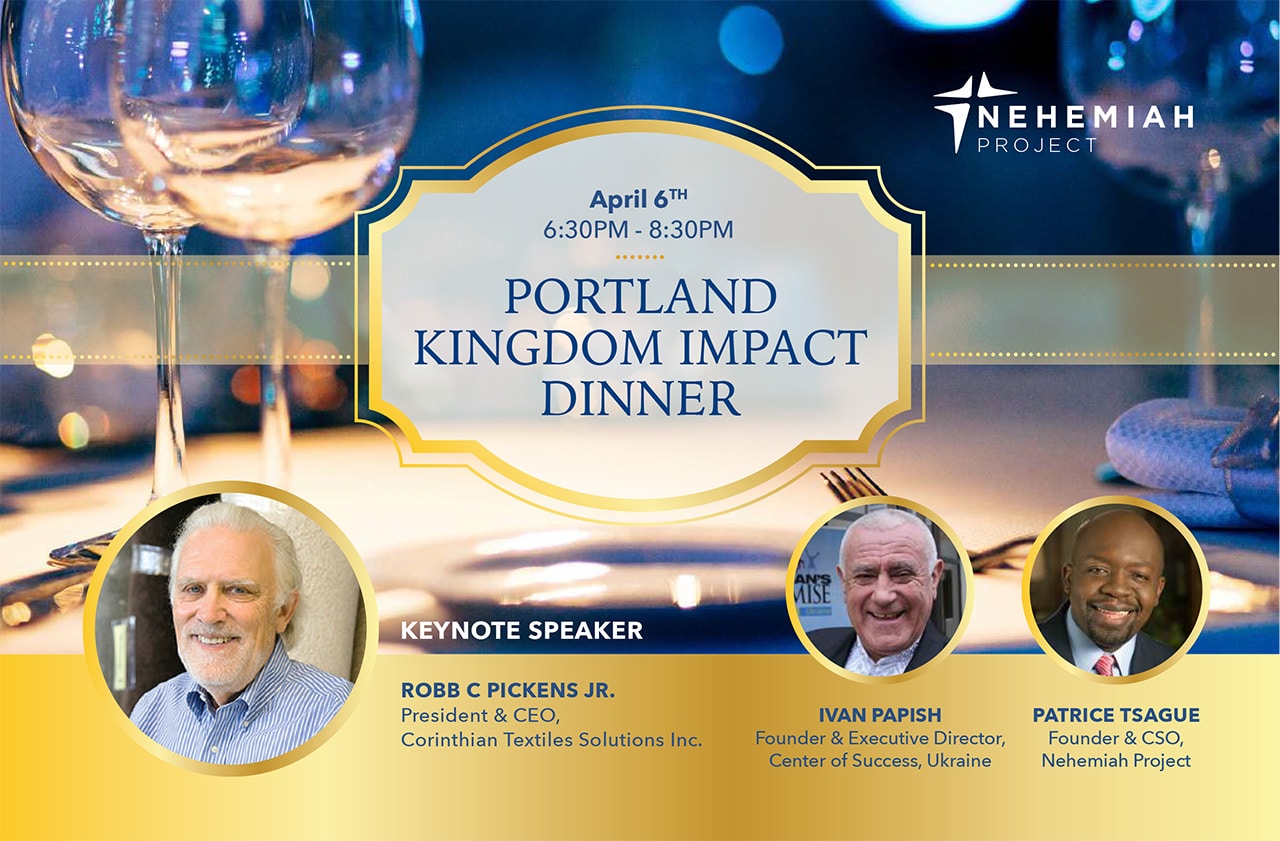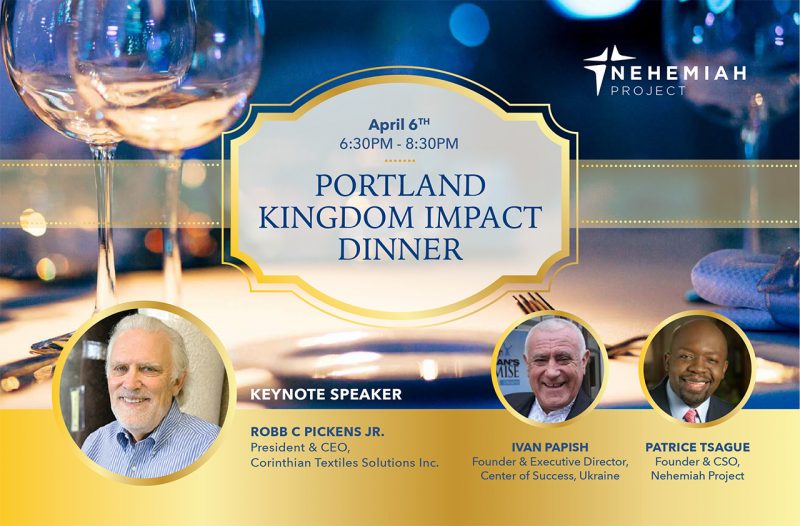 Each year, the Nehemiah Project hosts a celebration dinner at the Multnomah Athletic Club to honor a local kingdom business that is making an impact in the region and to celebrate the impact Nehemiah is making through Biblical Entrepreneurship around the world. The event is attended by the Portland and Vancouver business community and features a keynote by the honoree, a ministry highlight and update by the Chief Servant Office, a partner or alumni highlight, and special music.
This year's partner highlight is Founder and Executive Director of the Center of Success, Ivan Papish from Ternopil, Ukraine. Ivan will share his journey from being a communist to an entrepreneur, and how he became a Christian and developed a vision for the Ukraine Center of Success. Ivan has trained and supported over 2,000 Biblical Entrepreneurs in Ukraine and throughout Eastern Europe.
The banquet will also feature a special book signing by Tom Mears, Chairman of Burgerville USA and author of Serve with Love, and Patrice Tsague, author of the 40-Day Coaching Guide devotional. The event will kick off with a silent auction of handmade custom jewelry by Kathy and Jennifer Mears.
Date: Friday, April 6, 2018
Time: 6:30 PM – 8:30 PM
Location: Multnomah Athletic Club, 1849 SW Salmon St, Portland, OR 97205