Portland Kingdom Impact Dinner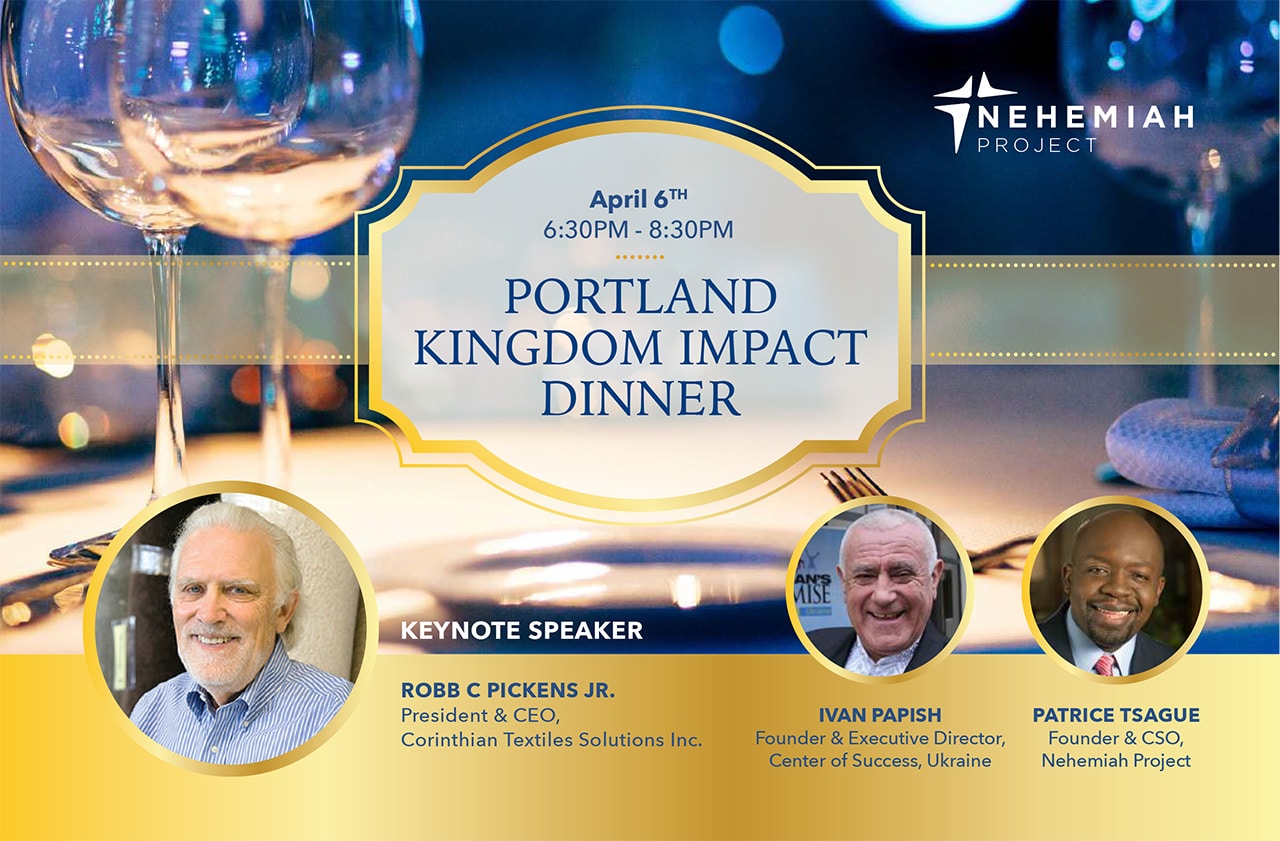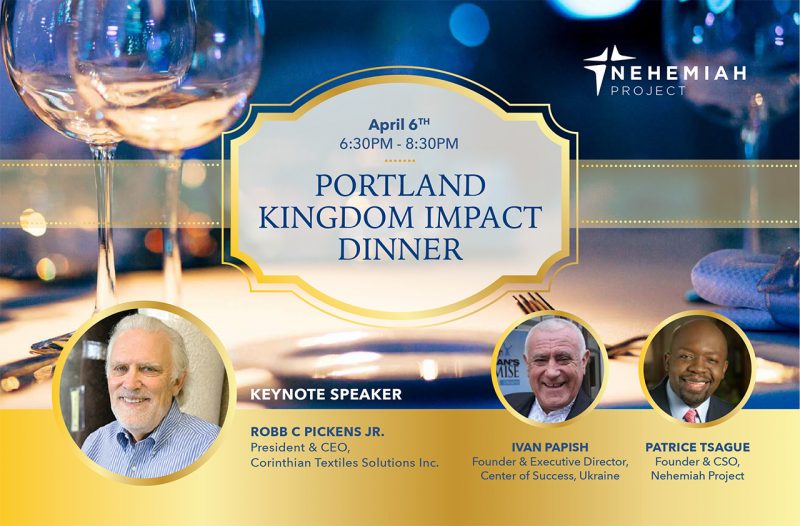 Each year, the Nehemiah Project hosts a celebration dinner at the Multnomah Athletic Club to honor a local kingdom business that is making an impact in the region and to celebrate the impact Nehemiah is making through Biblical Entrepreneurship around the world. The event is attended by the Portland and Vancouver business community and features a keynote by the honoree, a ministry highlight and update by the Chief Servant Office, a partner or alumni highlight, and special music.
This year's partner highlight is Founder and Executive Director of the Center of Success, Ivan Papish from Ternopil, Ukraine. Ivan will share his journey from being a communist to an entrepreneur, and how he became a Christian and developed a vision for the Ukraine Center of Success. Ivan has trained and supported over 2,000 Biblical Entrepreneurs in Ukraine and throughout Eastern Europe.
The banquet will also feature a special book signing by Tom Mears, Chairman of Burgerville USA and author of Serve with Love, and Patrice Tsague, author of the 40-Day Coaching Guide devotional. The event will kick off with a silent auction of handmade custom jewelry by Kathy and Jennifer Mears.
Date: Friday, April 6, 2018
Time: 6:30 PM – 8:30 PM
Location: Multnomah Athletic Club, 1849 SW Salmon St, Portland, OR 97205
Entrepreneur in Madagascar Uses GKIN Investments to Expand Her Business
Malala is the founder and Chief Steward of Menuiserie Kanto, winner of the 2015 International Business Plan Competition from Madagascar, and a Diamond member of the E-Community. Menuiserie Kanto is a mid to high-end furniture manufacturer based in Madagascar. Malala has successfully raised $75K through the E-Community Global Kingdom Investors Network and is looking to raise $26K more to invest in the expansion of her business. Malala participated in the first E-Community Investors Forum in 2016 which started her journey towards raising capital.
After taking Biblical Entrepreneurship, Malala used the principles she learned in the class to transition her company into a kingdom company. As a result, Malala experienced an 18% growth in her sales with increased profit and kingdom impact. Her kingdom impact includes increased jobs (up to 45 employees to date) in a country with over 50% unemployment rate, investing in her employees, running discipleship activities for her employees, providing them with interest-free capital to fund their own businesses, and providing scholarships for their children's education. She also invests in environmental protection through forest restoration.
Malala has used the funds to purchase new machines so that her furniture will be machine-dried rather than air-dried, saving her time and increasing her quality. She is now expanding her manufacturing plant and transforming it from a wooden shop to cement shop, including adding living quarters for some of her staff who may work late from time to time. This will increase her production capacity and give her staff added security.
The Biblical Entrepreneurship program in Madagascar is a partnership between the First Presbyterian Church of Orlando and The Church of Jesus Christ of Madagascar. Together, they are raising up kingdom companies in the country of Madagascar and creating jobs while sustaining local ministries.
If you are interested to raise capital or invest in kingdom businesses, click on the button below to complete the interest form.
Special E-Community Offer for Limited Time Only!
If you sign-up now for our 1-Year E-Community Diamond membership, you will get our Identity & Destiny Course for free (this course sells for $495)!
Or if you sign up for the monthly Diamond membership, you will get 30% off our Identity & Destiny Course.
This course have help many in their entrepreneurship journey so you do not want to miss out! Offer ends on March 31st. This offer is available for new sign up's and upgrades.
As a Diamond member you can enjoy weekly inspirational devotionals, ongoing community engagement, comprehensive educational resources, growth through our group coaching program, promotion of your products and services through our e-commerce platform, financing of your business or investing through the Global Kingdom Investors Network, as well as discounts on purchases from Nehemiah Project.
The first Biblical Entrepreneurship (BE) Experience was held in Mexico City on Saturday, March 3rd hosted by Nehemiah Project Mexico. The BE Experience is an introduction to Biblical Entrepreneurship through a practical hands-on intensive focused training based on a specific business discipline ranging from marketing and sales, strategic planning, financing a business, to succession and exit. The Experience is offered as a one day live intensive training or a 4-weeks online intensive training.
The March 3rd Experience was led by Nehemiah Project Founder, Patrice Tsague, and Board Vice Chair, Robert Fukui. The training focused on developing a growth strategy, which addressed topics like identifying opportunities for growth, developing a financial forecast for growth, and developing a 12-month growth plan. 21 entrepreneurs attended the training and represented various industries from real estate, professional services, to manufacturing. The business size ranged from small to medium-sized businesses. The training was life-changing, practical, and transformational according to many of the attendees.
Many were inspired to enroll in the upcoming BE Executive Program in Mexico City that will be held on July 2nd and 3rd. The next BE Experience in Mexico City will be held on May 26th. For information about the upcoming BE Experience training in the United States, click here.
For more information about Nehemiah Project Mexico on the training program in Mexico, please contact the Director of Nehemiah Project Mexico, Penelope Bravo at penelope@npmexico.org.mx