BE News from Around the World
Expanding Biblical Entrepreneurship in Congo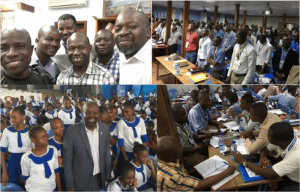 We recently traveled to the Democratic Republic of Congo to work with our partner, Basilea, in their vision to train and support Biblical Entrepreneurs.  Basilea's goal is to raise up kingdom entrepreneurs who can be a catalyst for job creation and transformation in the country.
We trained 200 existing business owners and aspiring entrepreneurs in Biblical Entrepreneurship I – Principles (BE I), and these students are excited to take on the challenge to build kingdom companies that can create jobs and transform their country.  Among the students in the Biblical Entrepreneurship class were entrepreneurs in several industries including mining, agriculture, education, information technology, construction, retail, import and export, transportation and many more… Pastor Richard's vision is to provide the members of his congregation with the business training and support they need to build businesses that honors the Lord, creates jobs and serve as a witness in the country for how to operate a successful business with integrity.  We will be returning April 24th thru April 29th to conduct part II of the Biblical Entrepreneurship course, BE II – Practices.
The training was hosted by the Shekina Foundation, a local foundation founded by Pastor Richard Diyoka.  Pastor Richard Diyoka is also the founding senior pastor of Shekina Church, a local church of approximately 18,000 members.  Shekina Foundation currently employs 300 people, operates a Christian School of 4000 students, runs a commercial printing business and other activities that are designed to enhance the spiritual, social and economic well being of church members and the Democratic Republic of Congo.
Pastor Diyoka's desire is also to introduce the Young Biblical Entrepreneurship training to the youth in his school.  We will be returning April 24th to April 29th to conduct part II of the Biblical Entrepreneurship course, BE II – Practices.   While in Congo we visited Elevation Academy, a Christian School founded by Pastor Gabriel Oleko 12 months ago through a social enterprise loan from the Elevation Foundation.  Pastor Gabriel completed BE III with a business plan and launched his business within 12 months of completing the course.  His school currently serves close to 400 students.  Pastor Gabriel is also the Founder of Nouvelle Horizon, which operates Biblical Entrepreneurship in France, co-founder of Basilea and serves as Senior Pastor of a Church in Paris France.  
Launching BE in Nigeria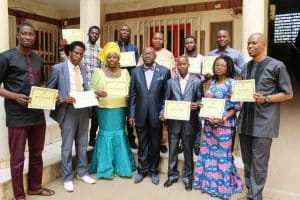 We are excited to launch the BE program in Nigeria!  In partnership with Nehemiah Epiphany Ministries (NEMA) and the House of Tabitha Development Initiative, 11 entrepreneurs completed BE I – Principles of Biblical Entrepreneurship taught by Aku Amboson.  A second BE I class is scheduled in April led by Alice Chatiza, NEMA.
The Center for Success in Ternopil, Ukraine
In January and February this year 135 Entrepreneurs completed the BE Program (BE I, II, and III).  Despite the difficult political and economic circumstances, these entrepreneurs are learning how to build a kingdom marketplace that glorifies God and operates based on His principles.  Students are now developing their business plans in order to graduate and compete for an opportunity to present their plan in Orlando at the International Business Plan Competition on October 20th, 2017 during Nehemiah Week.
For more information about our international work, how to join or support our work and bring Biblical Entrepreneurship into your country?  Please contact Debra Schlaht at debra@nehemiahproject.org. 
Called to Equip (Part II): Preparing the Next Generation of Entrepreneurs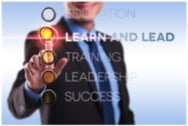 Have you ever wondered what you will gain when you attend the Nehemiah Entrepreneurship Teacher Certification Course? We begin the way every great adventure starts; with the Origin Story. Patrice shares his personal history; his life in Cameroon and here in the US before he became a Christian, how he met Jesus, how God gave him the idea for BE along with how he developed it over several stages and several years. He will also share the vision God has given him for the future of Nehemiah Project, including how you can partner with us as an instructor to help us equip entrepreneurs with a life-changing message.
As a student, you will have the opportunity to practice your teaching skills and learn from other classmates as well as the instructor. You will discover how a BE lesson plan comes together and how to be prepared to present the material in a student focused and effective way. You gain insight and understanding into how each person is created uniquely and how to prepare to meet the various needs and learning styles in any class you teach. You will receive an overview of all of our core courses and learn how Nehemiah is equipping people through these courses all over the world.
This is an opportunity to understand how Kingdom Business Coaching, our E-Community, Sustainable Missions, and our International Ministry all fit together to offer the students that you will teach a full measure of training and support. As a teacher, you have the opportunity to transform lives and help your students achieve their God-designed dreams. Please prayerfully consider if now is the time to become a Certified BE Teacher.
We currently have two more Teacher Certification courses in 2017:
Portland, Oregon, May 3-5 at the Nehemiah Headquarters in Lake Oswego, Oregon. Click HERE to register.
Maitland, Florida, October 11-13 at the Nehemiah Florida Headquarters. Click HERE to register.
Do you have questions? Please write Elizabeth at Elizabeth@nehemiahproject.org.
Don't Miss our 5th Annual Kingdom Impact Dinner!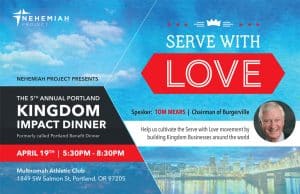 We are excited to invite you to an inspiring evening to hear Tom Mears, Chairman of Burgerville, share how he transformed Burgerville into a Pacific Northwest iconic brand by simply clarifying the company's mission and insisting that everyone live by it. At the 5th Annual Kingdom Impact Dinner on April 19, we will continue our standing tradition of highlighting the impact of Biblical Entrepreneurship around the world and raising support for Biblical Entrepreneurship training. We are also excited for the opportunity to give a free autographed copy of Tom's newest book, Serve with Love, to the first 50 guests who arrive at the event. Tom will also be available to sign additional purchased copies of his book. We hope to see you there!
To reserve your seat or sponsor a table, click HERE. For more information, please email Tiffany Merriman at tiffany@nehemiahproject.org or call (877) 916-1180.