Let's Transform the Lives of 50 African Entrepreneurs

Each week, we receive many inquiries to bring BE to a struggling entrepreneur in Africa, Asia, India, the Caribbean, a church or community. There is no lack of students or desire to know Christ Jesus through business. But there is a lack of resources to launch programs in countries like Liberia or expand in others. It is with this in mind that the International Department of Nehemiah Project has launched a Sustainable Mission crowdfunding project to raise $20,000 to help 50 African entrepreneurs receive the Biblical Entrepreneurship program.
The World Bank and other agencies estimate that up to 50% of the sub-Saharan population live on less than $1.90 per day with many surviving on less than $1.25 per day. The current aid programs and subsidized solutions have proven to hurt local economies and create dependency, while perpetuating the myth that emerging countries are helpless and cannot succeed on their own. We believe that people have the internal ability and capacity to overcome poverty.
Nehemiah's solutions stop the cycle of poverty by:
Supporting new innovative ideas
Creating local industries
Helping people stand on their own
Providing sustainable solutions that can be localized
Providing direct access to investors for entrepreneurs
Join the movement, click here to give today and help us train 50 African entrepreneurs!
Here are 3 ways you can participate:
Go to www.youcaring.com/beafrica and donate to give the gift of business. Any amount makes a difference.
Like and share our page on your social media page. Encourage your friends and colleagues to participate in this important opportunity to directly affect the life of an entrepreneur.
Pray for this effort and that the resources will be made available
Join us to "make the desolate cities inhabited" (Isaiah 54.2-3) starting in Africa through Biblical Entrepreneurship! To learn more about Sustainable Missions and our upcoming travel opportunities, contact Debra Schlaht at debra@nehemiahproject.org. 
Don't Miss the Next E-Learning Forum
As a business owner:
Are you feeling overworked and underpaid?
Deliver more value than what you charge?
Struggle to take a regular salary?
Stuck in no growth mode?
Haven't had a significant price increase in 2+ years?
If you can answer yes to any of these issues, than you may need a price increase. Find out how to set the correct value based price at the upcoming e-forum.
SAVE-THE-DATE
Date: March 14th, 2017
Time: 6am – 7am Pacific time
Speaker: Robert Fukui
Topic: 4 Common Pricing Mistakes That Eat Your Profits
The forum is free for Diamond and Gold members and at a discounted price of $10 for Silver members. Click here to register!
Join the E-Community for free if you're a BE alumni and for as little as $25 per month for non-BE alumni. For more information about the E-Learning Forum, please contact our Director of Operations, Randall Stanford, randy@nehemiahproject.org. Click here to join the E-Community!
You're Invited to: The Urban Initiative Impact Receptions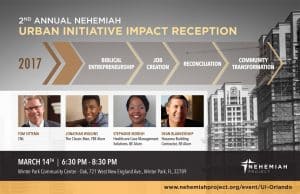 Join us with Tom Sittema, CEO of CNL Corporation, as we celebrate Stephanie and Jonathan while raising support to produce more urban job creators throughout the United States.
Free event. RSVP required by March 7th. To register, please visit
https://nehemiahecommunity.com/event/ui-orlando/
POWERFUL COLLABORATION IN THE DMV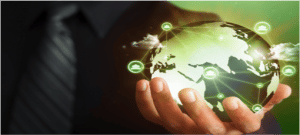 DMV stands for District of Columbia, Maryland, and Virginia and is where Nehemiah's Area Developers, Kelly and Jerome Leonard, are making a difference for the Kingdom. This week they have put on a series of events that bring entrepreneurs together, culminating with an "Alumni and Friends" event on Thursday. If you are in the area and want to participate, collaborate, or get connected, it is not too late. Register for the "Alumni and Friends" event being held on Thursday, March 9th, 6-8pm at Bethel World Outreach – 16227 Batchellors Forest Rd, Olney, MD 20832. Click here to register.
These events are designed to show what God is doing in the marketplace and to celebrate the success of a Kingdom business.
Paul Ferrell from Nehemiah Security was featured in the first of three scheduled Kingdom Business Tours that existed in collaboration with One Heart DC, a gospel movement in Metro Washington. Paul, a driven entrepreneur, shared how he's leveraging his influence in the fast-paced, highly visible cyber security industry in order to expand the gospel of Jesus Christ. Click HERE to find out about future Kingdom Business Tours and dates.
On Tuesday evening, a collaboration with Career Network Ministry, an outreach team of McLean Bible Church in Northern Virginia whose goal is to encourage, equip, and empower people to become all that God wants them to be. Patrice was the featured guest who shared on how to be entrepreneurial within job searches.
Here is what Kelly Leonard says about this gathering: "Perhaps you have heard about Biblical Entrepreneurship and would like to discover more about this course and/or to fellowship with local business leaders who are a part of the BE Community. Wherever you are on your journey, we invite YOU to join us."