In this week's news we are highlighting an E-Community skeptic who became a raving fan. You will learn about how Kelly Leonard, Nehemiah Area Developer, teacher and BE alumni is taking advantage of her E-Community member benefits.
Keep reading to learn more and get updates on upcoming classes and other events.
If you have any questions or comments, we would love to hear from you. Please contact us at info@nehemiahproject.org or 877-916-1180.
Grow Your Business Through the E-Community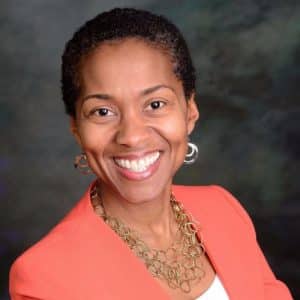 Kelly Leonard is the CEO of Taylor-Leonard Corporation (T-LC), a training, coaching, and business development consultancy. T-LC leverages the power of information technology to drive organizational outcomes; resulting in operational excellence and increased profitability. Kelly also serves as the Washington DC, Maryland and Virginia Area Developer for Nehemiah Project along with her husband, Jerome.
While initially Kelly was excited about the E-Community, she became skeptical after learning about the monthly membership fee. After a series of calls and emails with Nehemiah Project headquarters to address Kelly's questions, she decided to take the plunge and subscribe at the Diamond level.
Within three months of her membership, Kelly received value beyond her membership fee. She is so excited about her membership benefit that she shares it with passion and enthusiasm to anyone who will listen. As a Diamond member, Kelly qualifies for all of the E-Community benefits including (but not limited to) monthly E-Learning Forums, discounts on classes, Group Coaching, free e-books, Teacher Back Office, Resource Center, weekly devotionals, monetization payments, the Global Kingdom Investors Network and much more. She feels the Group Coaching alone has more than paid for her monthly membership fee. She would value her membership benefits at more than $300 a month.
What she enjoys most about the E-Community is the opportunity to collaborate with fellow biblical entrepreneurs, the group coaching tools, the accountability and being a part of a global community.
Join Kelly and close to 100 other members who are enjoying the benefits of the E-Community while building deeper relationships.
Click here to join the E-Community!
Don't Miss our 5th Annual Kingdom Impact Dinner!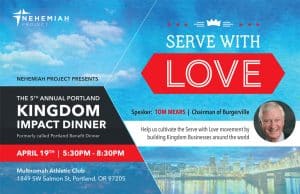 We are excited to invite you to an inspiring evening to hear Tom Mears, Chairman of Burgerville, share how he transformed Burgerville into a Pacific Northwest iconic brand by simply clarifying the company's mission and insisting that everyone live by it. At the 5th Annual Kingdom Impact Dinner on April 19, we will continue our standing tradition of highlighting the impact of Biblical Entrepreneurship around the world and raising support for Biblical Entrepreneurship training. We are also excited for the opportunity to give a free autographed copy of Tom's newest book, Serve with Love, to the first 50 guests who arrive at the event. Tom will also be available to sign additional purchased copies of his book. We hope to see you there!
To reserve your seat or sponsor a table, click HERE. For more information, please email Tiffany Merriman at tiffany@nehemiahproject.org or call (877) 916-1180.
Join us for the Next E-Community Group Coaching

We invite you to join us on Tuesday, March 28th at 6am PST for our next Group Coaching session. The E-Community Group Coaching program is a virtual peer-to-peer coaching program made up of 5 to 12 members facilitated by a trained Kingdom Business Coach™. Our group coaching program offers an outstanding, cost-effective coaching solution for entrepreneurs, investors, couples in business, partners, and teachers at any growth stage through a joint learning environment.
This is available to E-Community™ diamond members only.
Not an E-community member? Click here to join today!
If you are already a member and would like to upgrade your membership, Click here.