Once Jesus was asked what was most important to God. He replied, "Love the Lord your God with all your heart and with all your soul and with all your mind" and then "Love your neighbor as yourself." (Matthew 22:37-39).
When it comes down to it, all that matters is love: how we love God and others with our lives and resources. With that in mind, we are so happy to share a few highlights from Nehemiah Week 2016, where we were blown away by how people from all ages and places came together in Christ to honor God with their time, talents, and treasures to show Christ's love to one another.
If you are interested in attending Nehemiah Week 2017 "Spiritual Warfare in the Marketplace," contact us at info@nehemiahproject.org, or pre-register today.
Nehemiah Week 2016
First, we kicked-off Nehemiah Week Monday with the Kingdom Business Tour with approximately 50 event participants from more than a dozen different countries.
We traveled to three businesses that are modeling Kingdom Business principles. First location was First Presbyterian Church of Orlando; Pastor Case shared a brief church history and vision. Second, King's Service Solutions, with married business owners Arnaldo and Yanet Herrero who reminded us that it's not all about "making it," but also remembering to ask God, "what's next?"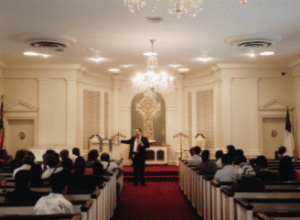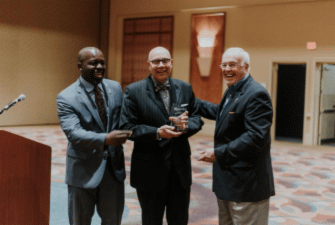 Tuesday, Wednesday, and Thursday attendees enjoyed a powerful Biblical Entrepreneurship Conference on "Globalization and International Trade" and Thursday afternoon, an inspiring Awards Luncheon. Honored speakers Hugh Whelchel, Terry Prather, Moran Rosenbilt and Al Caperna, Barry Tallis, Pastor George Cope, Patrice Tsague, Scott Landis, Elizabeth Dyan, Randy Sanford, Debra Schlaht, Barry Tallis and more brought their insights on why we do business the way we do together, and why it matters to God. The worship band and special guest violinist Lori Jean Smith wowed the audience with a powerful performance of amped-up worship and modern hymns.
Patrice Tsague may have said it best when it comes to working together in Christ for His Kingdom:
"International Trade is the spice of life. When done well, it makes everything taste better!"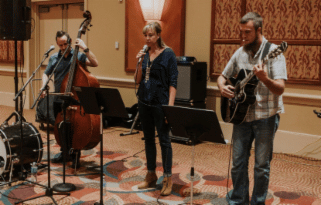 Later Thursday afternoon, the highly anticipated "E-Community Investor's Forum" highlighted Kingdom businesses and the opportunities available to both Biblical Entrepreneurs and Kingdom Investors on the newly launched E-Community platform.
Congratulations are due to all of the presenters: Dean and Jane Blankenship of Hosanna Building Contractors, a construction company, Florida; Zach Fay of Kingdom Scene Endeavors, a virtual gaming platform engaging faith, character, and service, Missouri; Malalaniaina Ratianaharisoa of (Menuiserie Kanto) Smart Carpentry, Madagascar; and Chris and Jen Wherrell, My House Fitness, Florida, USA.
Find out more today about the E-Community and how you can be a part of connecting Kingdom Businesses!
*Calling all VIPs: Your voice matters! Did you participate in this year's E-Community Forum as an investor, presenter or guest? We want to hear from you!
Please take a few moments to give us your feedback.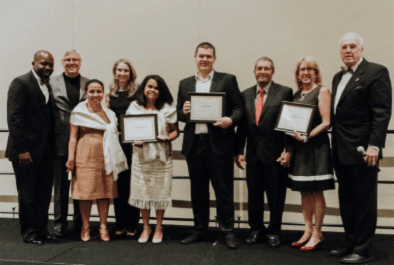 Friday night's International Business Plan Competition was a phenomenal example of what happens when preparation and passion meet opportunity.
Congratulations to all the presenters. First place, Mbolatiana Ralidera of Madagascar. Second place, Pylyp Tkalenko of Ukraine. Third place, Dean and Jane Blankenship of Florida, USA. And a very honorable mention to David Nebout of France, and Ray Jelinski of Canada. Well done!
"The International Business Plan was outstanding! I am amazed and encouraged by all the participants and BE teams who worked so hard to compete this year. The business plans were incredible and I look forward to seeing how the Lord uses them to impact their community and create wealth."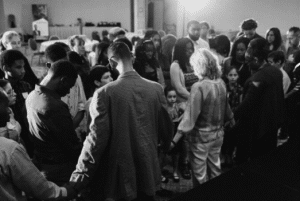 "We had our YBE students share their elevator speeches for their businesses, we had our student summer interns share about their experience creating the LifePrint Apparel clothing line and we had the rap artist Legion perform. Students, adults and internationals worked together in teams to solve a major world problem and present what their solutions would be." Powerful! Nathan adds how impressed he was with so many business plans from young competitors, "Jonathan Wiggins and Shelby Williams shared their business plans respective and Jonathan sold out of his bow ties during the event. (The Classic Man is located at 927 S. Goldwyn Ave Orlando, FL 32805.)"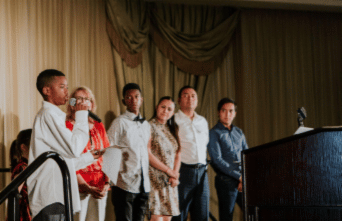 Elizabeth Dyan, Entrepreneurship Institute Director agrees:
"The YBE conference rocked! I am so excited to see this program re-launched in a powerful way that will truly empower & equip our youth with tools to build a successful future and be apart of an incredible positive change for our nation."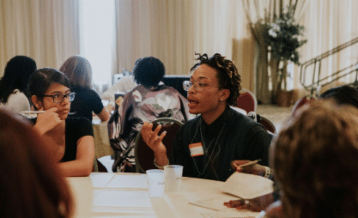 Saturday evening we worshipped together at the Celebration Banquet, the culmination of many months of preparation and prayers. Pounding rain from the northern edge of hurricane Matthew was a backdrop to the powerful testimonies and worship of so many Nehemiah Week participants, supporters and special guests sharing what God has done this year and the vision of what's ahead. The honorable Ken Blackwell spoke on what it takes to succeed where it counts. Christian rap artist "Legin" performed again with the help of some very special YBE guest artists. The winner of the International Business Plan Competition was announced: Mbolatiana and Hery Ralidera with the quail business O! Caille, Madagascar.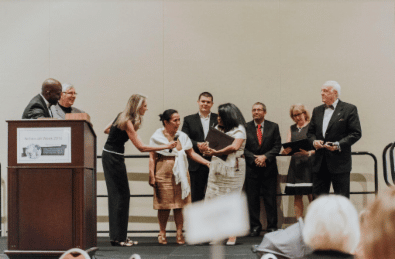 Congratulations again to all our incredible participants, staff, board members, donors, volunteers and guests this year. We were blessed to have raised over $74,000 to expand Biblical Entrepreneurship and Young Biblical Entrepreneurship around the globe, with special thanks to matching grant of $50,000 thanks to an anonymous donor.
Nehemiah Project co-founder Gina Tsague says,
"My most memorable moment took place at the celebration banquet. To see the emotional reaction from our first place business plan competition winner as she received her award was priceless. It was also a blessing to witness the difference that BE is making in the lives of so many around the globe."
On Sunday, staff and participants came together to celebrate in worship. Scott Landis of Kingdom Business Coaching says,
"I liked when Alice (a powerful leader and sister in Christ from Zimbabwe) spoke about forgiveness, asked for forgiveness from anyone she may have offended, and forgave anyone who may have offended her. I thought that was powerful and set the tone for the worship
on Sunday

."
Elizabeth Dyan, Entrepreneurship Institute Director also shared that some of her favorite moments "were worshiping with my Nehemiah family from around the world. It's amazing how people come from so many different countries and feel like family. Truly a blessing!"
Debra Schlaht, International Director may have summed the week up best, saying,
"l love Nehemiah Week. There are too many special moments to narrow it down to one. Every event brought new memories to cherish. I am blessed to be in a family of many nationalities and cultures with a common love of Christ Jesus and desire to come together to build kingdom families, communities, and marketplaces."