Patrice's long-awaited book, Biblical Entrepreneurship Essentials, is now available for purchase. Biblical Entrepreneurship Essentials is Patrice's 5th published book. His newest book is a timeless resource and transformational guide for every Christian leader in the marketplace. Whether you are new to business or a seasoned entrepreneur, this book, which serves as part one of the Biblical Entrepreneurship book series, lays out a solid Biblical foundation for understanding God's economy and how to be successful within it. Whether you've taken the Biblical Entrepreneurship course or not, this book is a great complimentary resource for the BE program. The book is an easy read, and it consists of over 350 pages full of principles, practical applications, and real-life kingdom business stories.
Features and topics highlighted in the book
The book features a wide assortment of different topics such as the essence of entrepreneurship, work as a calling, wisdom for wealth, working in God's economy, becoming a kingdom builder, and many more. In addition to these notable topics, the book contains several features that will only help you to develop your understanding of the Christian marketplace.
The Book Features:
Over 350 pages full of practical applications and principles
Patrice's personal journey to becoming a biblical entrepreneur
Real-life kingdom business stories and applications
Loaded with scriptures and practical business applications
Exercise and personal evaluation tools
Additional recommended resources
Vocabulary section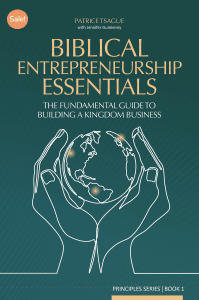 What are others saying about Biblical Entrepreneurship Essentials?
"For every business owner and leader who knows their work is not just a job but a calling, this is a must-read. An invaluable guide. A powerful resource that you will treasure and rely on!"
– Pam Jordan Wolf, Partner of Wolf and Wolf Coaching
"Patrice Tsague is a faithful Christian leader with a wide array of international experience that gives him a unique voice as he speaks into the challenges which exist today. His book applies that experience along with a solid biblical grounding in order to produce a work that is accessible, inspiring, and hopeful in its message to those who have never understood how business can actually be a gospel enterprise. This is a must read for business owners, entrepreneurs, and the larger Christian community!"
– Dr. David D. Swanson, Senior Pastor of First Presbyterian Church of Orlando
"Patrice captures, with practical insight, the very nature of what it means to be an entrepreneur. He goes much further, however, as he also captures the spirit of the Biblical Entrepreneur. I cannot recommend this book highly enough."
– Alan Ross, Founder, and CEO of Kingdom Companies