The first Biblical Entrepreneurship (BE) Experience was held in Mexico City on Saturday, March 3rd hosted by Nehemiah Project Mexico. The BE Experience is an introduction to Biblical Entrepreneurship through a practical hands-on intensive focused training based on a specific business discipline ranging from marketing and sales, strategic planning, financing a business, to succession and exit. The Experience is offered as a one day live intensive training or a 4-weeks online intensive training.
The March 3rd Experience was led by Nehemiah Project Founder, Patrice Tsague, and Board Vice Chair, Robert Fukui. The training focused on developing a growth strategy, which addressed topics like identifying opportunities for growth, developing a financial forecast for growth, and developing a 12-month growth plan. 21 entrepreneurs attended the training and represented various industries from real estate, professional services, to manufacturing. The business size ranged from small to medium-sized businesses. The training was life-changing, practical, and transformational according to many of the attendees.
Many were inspired to enroll in the upcoming BE Executive Program in Mexico City that will be held on July 2nd and 3rd. The next BE Experience in Mexico City will be held on May 26th. For information about the upcoming BE Experience training in the United States, click here.
For more information about Nehemiah Project Mexico on the training program in Mexico, please contact the Director of Nehemiah Project Mexico, Penelope Bravo at penelope@npmexico.org.mx
Portland Kingdom Impact Dinner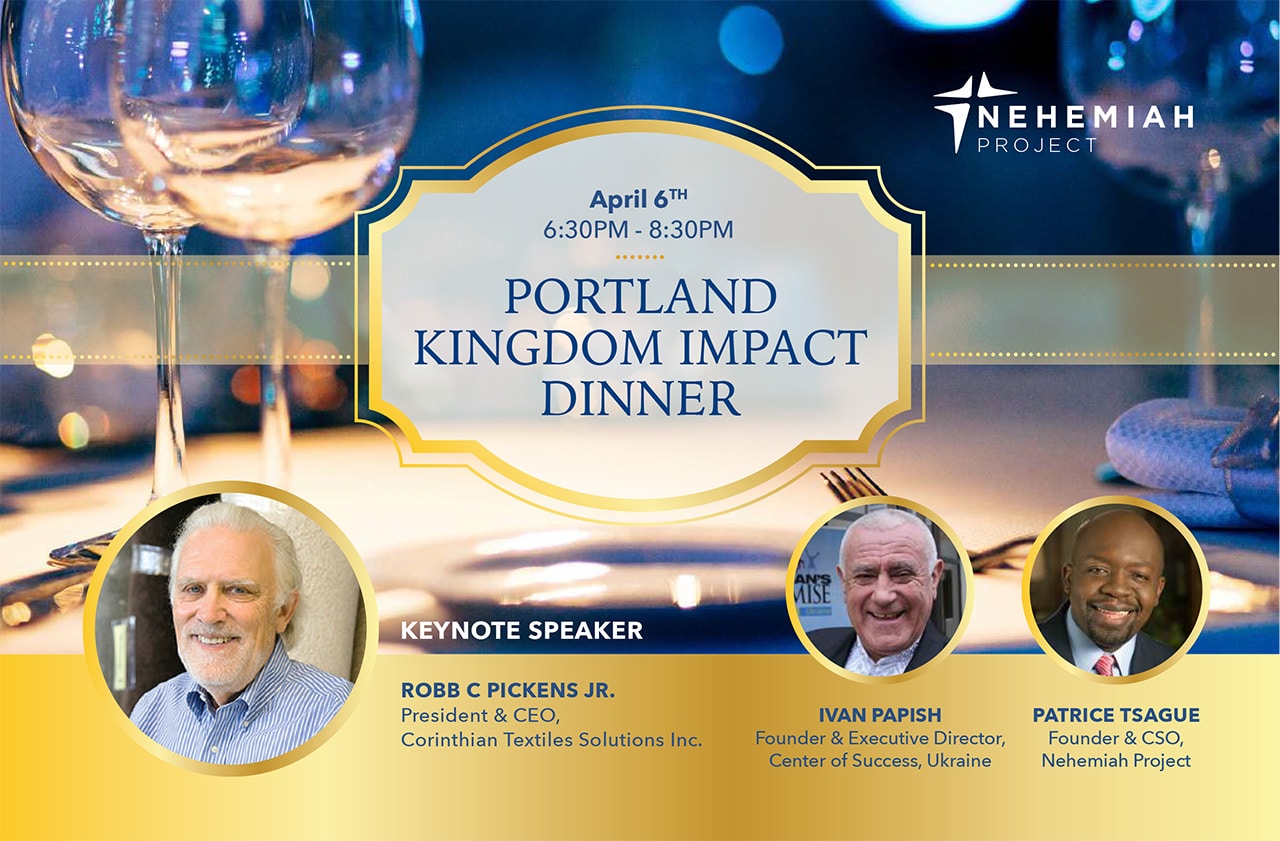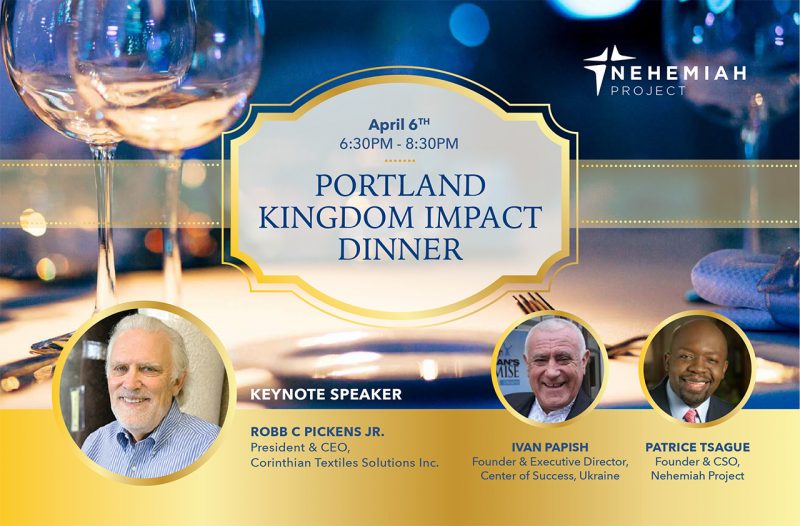 Each year, the Nehemiah Project hosts a celebration dinner at the Multnomah Athletic Club to honor a local kingdom business that is making an impact in the region and to celebrate the impact Nehemiah is making through Biblical Entrepreneurship around the world. The event is attended by the Portland and Vancouver business community and features a keynote by the honoree, a ministry highlight and update by the Chief Servant Office, a partner or alumni highlight, and special music.
This year's partner highlight is Founder and Executive Director of the Center of Success, Ivan Papish from Ternopil, Ukraine. Ivan will share his journey from being a communist to an entrepreneur, and how he became a Christian and developed a vision for the Ukraine Center of Success. Ivan has trained and supported over 2,000 Biblical Entrepreneurs in Ukraine and throughout Eastern Europe.
The banquet will also feature a special book signing by Tom Mears, Chairman of Burgerville USA and author of Serve with Love, and Patrice Tsague, author of the 40-Day Coaching Guide devotional. The event will kick off with a silent auction of handmade custom jewelry by Kathy and Jennifer Mears.
Date: Friday, April 6, 2018
Time: 6:30 PM – 8:30 PM
Location: Multnomah Athletic Club, 1849 SW Salmon St, Portland, OR 97205
Alumni Virtual Connect Recording Now Available
We had a great time of learning and encouragement during the first quarter Alumni Virtual Connect this month. The Alumni Virtual Connect is a quarterly E-Community event that is a resource tool for our alumni and E-Community members to continue growing and also a connection point to hear about what God is doing around the world through our partners and alumni. For this webinar, Patrice Tsague shared on the Seven Strategies to Empower the Next Generation of Leaders and Entrepreneurs, giving us insights and encouragement as we continue to impart into our future generation.
We also heard from Ivan Papish from Ukraine who shared about his journey of growing up as a communist to becoming an entrepreneur, and eventually coming to Christ. This led to the vision of the Center for Success that has trained over 5K Biblical Entrepreneurs in Ukraine and throughout Eastern Europe and is today impacting over 300 youth a year through education and discipleship.
This webinar is now available in the Resource Center for E-Community Members and on our store for non-members to purchase.
If you are an E-Community member, you have access to it for free. Simply log in to your E-Community account, click on the Resource Center, and click on the Alumni Virtual Connect tab. If you are an alumni, you are automatically entitled to a free Silver E-Community Membership. So if you have not signed up for your free Silver E-Community Membership, click below to sign up.