12 Principles of God's Economy
Economics is the management of scarce resources, but when viewed from a biblical perspective, we discover that resources are not so scarce after all, but rather they are abundant if you apply the appropriate principles. This seminar will help you uncover the economic principles that will enable you to tap into the abundant resources that God has blessed each and every one of us with.
If you are currently stuck in a rut or desire to accelerate your growth, this seminar is for you. Business success begins with adherence to certain economic principles, and those who succeed have not only mastered those principles, but they live them out in every aspect of their lives. The Bible is full of economic principles that if followed, not only yields temporal success but also yields eternal success. In this seminar, you will uncover gems from a very familiar passage of scripture which if lived out, you will achieve success in any market condition and any economy. Discover the power of God's Word and the transformational impact its wisdom can have on your life and business.
In this seminar you will:
Discover the assets God has given you and how to use them profitably
Understand the value and impact of profit
Learn the hindrances to success and how to overcome them
Join Patrice Tsague as he unpacks the 12 principles of God's economy based on Matthew 25 from the story of the talents.
Date: Monday, February 26, 2018
Time: 7:00 AM – 8:00 AM Pacific time
Cost: Free
Portland Kingdom Impact Dinner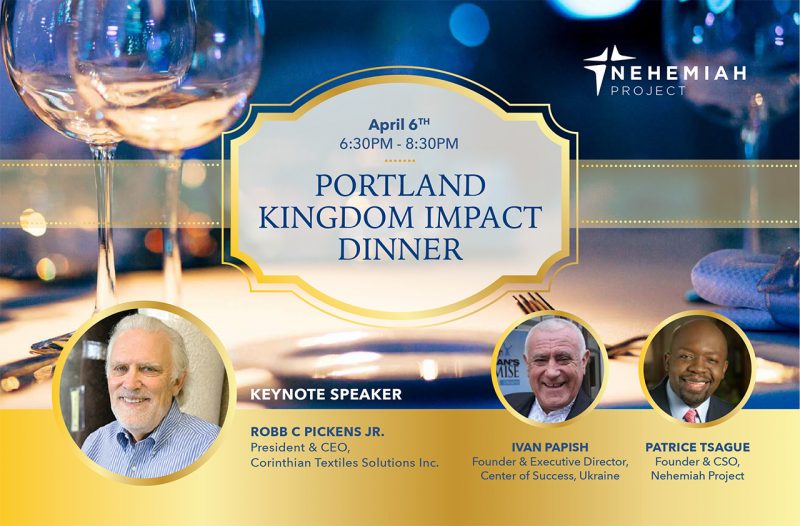 Each year, the Nehemiah Project hosts a celebration dinner at the Multnomah Athletic Club to honor a local kingdom business that is making an impact in the region and to celebrate the impact Nehemiah is making through Biblical Entrepreneurship around the world. The event is attended by the Portland and Vancouver business community and features a keynote by the honoree, a ministry highlight and update by the Chief Servant Office, a partner or alumni highlight, and special music.
This year's partner highlight is Founder and Executive Director of the Center of Success, Ivan Papish from Ternopil, Ukraine. Ivan will share his journey from being a communist to an entrepreneur, and how he became a Christian and developed a vision for the Ukraine Center of Success. Ivan has trained and supported over 2,000 Biblical Entrepreneurs in Ukraine and throughout Eastern Europe.
The banquet will also feature a special book signing by Tom Mears, Chairman of Burgerville USA and author of Serve with Love, and Patrice Tsague, author of the 40-Day Coaching Guide devotional. The event will kick off with a silent auction of handmade custom jewelry by Kathy and Jennifer Mears.
Date: Friday, April 6, 2018
Time: 6:30 PM – 8:30 PM
Location: Multnomah Athletic Club, 1849 SW Salmon St, Portland, OR 97205